5 ways to help your employees transition into post-pandemic life
Aegon Content Team
Friday, 3 September 2021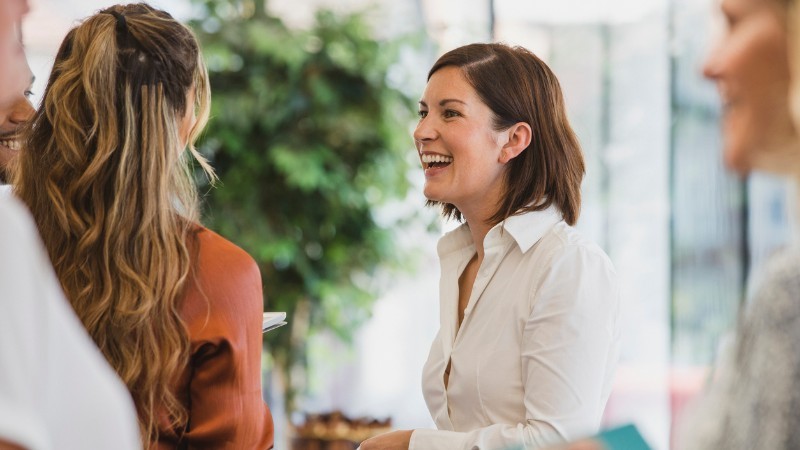 For employers only                   
The Government's coronavirus restrictions have eased across the country, leaving employers like you to decide on the best ways of working for your business. This could involve employees working remotely, returning to the office – or having a more flexible, hybrid work situation in place.
Each nation in the UK has introduced their own rules and timelines, with the Prime Minister going further to recommend a gradual return to work for England1. So, it's likely your company is continuing to determine the specifics of what that return looks like, or whether it will happen at all.
Over the past 18 months, many employees have enjoyed the benefits of working from home – avoiding long commutes and the restrictions of office hours – many   have probably appreciated a better work life balance.
So, how do you help your team get back into the office smoothly? With many possibly feeling anxious about the return, you should consider how to help with wellbeing, socialising and most importantly, safety.
Here are five tips to help you determine the new ways of working:
1. Ask your employees how they'd like to adjust to work post-lockdown
The world of work has changed drastically during the pandemic, and for many people, personal priorities have also changed. Rather than forcing employees to stick to specific guidelines for returning to work, savvy employers will give employees a voice, taking time to find out how they would like their ideal work lives to be.
Consider using surveys, conducting focus groups or asking for one-on-one input from your employees. In addition to asking the type of work setup employees prefer, ask the reasons for their preference so you truly understand their view.
Make it easy for your employees to participate. Your survey might just be a series of short questions – and consider making feedback anonymous to encourage uptake. Really think about the questions you're asking and what you're going to do with the responses.
Remember, it should also be an ongoing conversation with your employees. Check in to see how they're getting on – to understand if their thoughts and views have changed over time and to help identify if the new way of working is effective.
As well as listening to your employees' opinions, take into consideration their personal situations too. Caregivers and those who have significant personal responsibilities have grown accustomed to the flexibility of remote work, which often makes it easier to balance all those responsibilities. Parents might need these opportunities to work remotely too.
2. Look for flexible approaches to a return to office life
Even if you need to have some employees on site, consider whether it would be feasible to allow some to work remotely. Many people might not be emotionally ready to return to crowded trains and offices, and forcing them to do so could come at a possible detriment to their mental health and their ability to work. 
Those suffering from anxiety or depression might need the opportunity to discuss their challenges with someone before returning – so consider training line managers and make sure you have the right HR support upfront. The emphasis shouldn't be on forcing staff to return to work but supporting them in the method and pace that best suits them. 
Some people might be worried that by not returning to the office –they're  signaling their anxieties or inability to cope. This can put extra pressure on employees to return to the office before they're ready. Consider creating a culture of acceptance among all staff – showing employees, especially managers, that it's okay for others to go at their own pace. 
3. Communicate clear and consistent guidelines on your post-lockdown work policy
People crave clarity during times of disruption and change, so make sure you communicate your policies clearly and consistently. 
Share specific guidelines to safeguard the health and safety of your employees, vendors, customers and anyone else on site. For instance, depending on your sector, you could consider requiring proof of vaccination or for masks to be worn. You might also want to implement social distancing measures in the office or limit the number of people who can be in the office at one time. 
It's vital to communicate the plan in writing. Consider writing a 'return-to-work' guide or list of rules, which you can distribute to every employee. The document should include criteria for returning to the office, as well as what conditions you're allowed to work remotely. Include contact details should anyone want to discuss these policies and clearly indicate what HR support you have on offer.
Before you agree on the new guidelines, it's a good idea to pilot test to see which approach works well.  
4. Direct employees to financial guidance and advice
After more than a year of the coronavirus negative economic impacts, many people may be struggling financially. Some employees may be impacted by their partner's change of work situation, such as a redundancy, or the closure of a business. These employees may need help in understanding and managing their finances. Whilst not the direct responsibility of an employer, supporting staff in this way can improve their mental health and work-life resilience. 
Over the past 18 months, employees could have been distracted by health, family and personal stressors, as well as keeping up with work. As a result, they might not have taken time to check on their pension schemes. This is one place, in particular, where employers can help. Read our article Understanding your workplace pension to share seven tips with your employees to make the most of their workplace pot.
It's also important to note that other employees will have managed to save considerable sums over lockdown as normal expenses, such as commuting, have been on hold. These employees could also benefit from advice on how best to use that nest egg – such as reviewing their longer-term saving goals – or increasing their pension contributions depending on their personal circumstances.
Bringing in financial advisers to give talks, or directing your colleagues to where they can access professional financial advice, is a good way to make sure that everyone feels supported.
5. Stay compassionate and open
We all have different opinions about emerging out of lockdown and finding a new normal is going to take time. Give your employees time to adapt, a safe place to share their concerns and have regular conversations – to  find the best way to transition into post-pandemic life for both your employees and the company.
1. Covid: Should I be working from home or going back to the office?, Source, BBC, August 2021.