5 ideas to have fun on a budget this summer
Aegon Content Team
Wednesday, 29 June 2022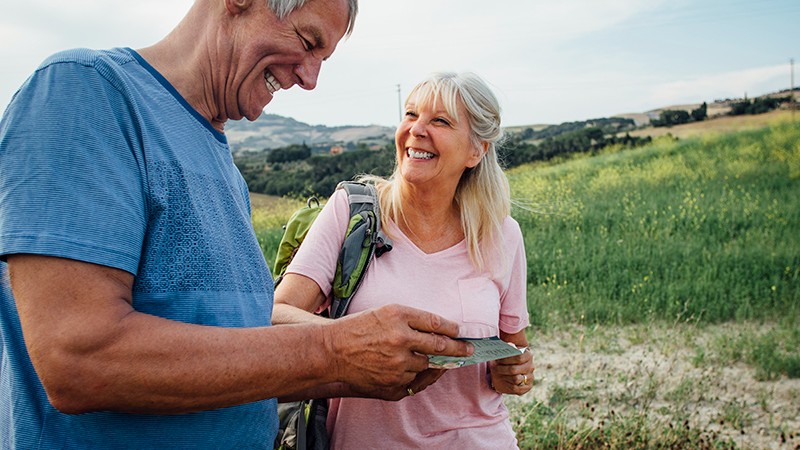 For customers
With lighter evenings and warmer weather, you might be wondering how to make the most of your free time this summer. While many of us might be feeling the squeeze of the cost of living, there are plenty of free or low-budget ways to enjoy yourself. Here are a few suggestions to help get you started.
1. Have a picnic in the park
If the weather is on your side, a picnic in the park can be a great low-budget day out. Preparing sandwiches and other treats at home could save you money, instead of buying food from a food van or café. You can pack all your favourite items and have fun making your own picnic feast. Don't forget your blanket, a frisbee, football or your favourite outdoor games for added entertainment. 
2. Staycation at the beach
If your budget doesn't stretch to a holiday abroad this year, make the most of Britain's beautiful coastline with a day out to the beach. From Aberdour in Fife, to Aberystwyth in Wales, there are beaches across the country to choose from.
While you may have to spend money on travel to get there, there are plenty of free activities to do on your beach day. Get competitive with a sandcastle building competition, take a bat and ball for a game of beach rounders or simply relax. If you're feeling brave, you could even take a dip in the sea if it's safe to do so. There might be scheduled events such as beach volleyball or water sports you could take part in – but note that these may come with a cost. A picnic might also come in handy here to save costs on eating out. While you can't control the weather, you can take control of your spending.
3. Go to a free outdoor festival or event
The summer weather lends itself to plenty of outdoor events – and many of them are free to attend. There are lots of things happening – from local comedy and music festivals like Edinburgh's fringe festival – to street parties like Notting Hill's Carnival celebrations. Have a search online to find out what's going on near you.
Outdoor cinemas are also common over summer – both free and paid events – showing classic films for all ages. Be sure to check if your town or city is hosting a free event in your area – such as the open-air cinema in Glasgow. If you've got some money to spare, some companies offer open-air cinema experiences across the UK, with standard or VIP packages available.
4. Be a tourist in your own town
When you live somewhere for a long period of time, it can be easy to overlook the sights on your own doorstep. Maybe you live near a historical landmark that you haven't visited in years, or a popular destination that you've never checked out. There might be a free walking tour you can join, or make up your own route on Google Maps.
If you want to make things more exciting, you could create a scavenger hunt or bingo game with a list of things to find or do on your travels. Get competitive with family and friends to see who can tick off the most tasks within a time limit, or simply explore at your leisure. There are online resources that can help you create small scavenger hunts for free if you want to make things more interactive.
5. Use public transport for discounts on attractions
If you fancy going to a top tourist attraction this summer, you might be able to grab yourself a discount if you travel by bus or rail. Make sure you double check your route isn't disrupted before travelling to avoid disappointment.
Many public transport providers offer 2for1 entry or other discounts to attractions across the UK if you travel with them. There are lots of great attractions on offer from castles and museums to theme parks and zoos. If you have a family, your children might also benefit from free or discounted travel on both buses and trains. The restrictions and age thresholds differ across the UK, so it's worth checking guidance in your local area or place you're travelling to. Some providers offer family ticket prices, based on a family of 2 adults and 2 children.
With petrol prices on the rise, travelling by public transport could be a cost-effective way to visit some top attractions and benefit from discounted ticket prices while doing so.
Have fun on a budget this summer
While saving for the future is important, it's also important to make sure we find joy in the present. Whether you choose to splash out on a few paid activities or make the most of free experiences, there are lots of ways to make fun memories on a budget. Get creative and be sure to look out for what's happening in your area this summer.
For more articles like this, visit our Customer Perspectives hub.