5 conversations to have with your children when they move back home
Aegon Content Team
Friday, 3 September 2021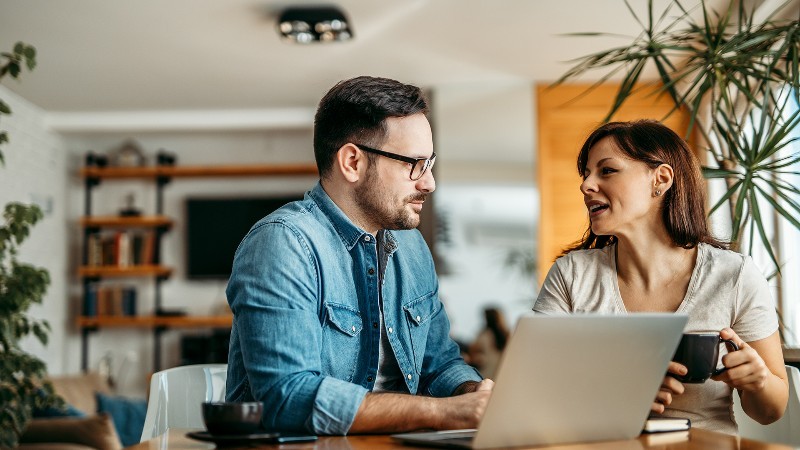 For customers
Growing numbers of young adults have stayed home longer or moved back to their parents' homes to save money, often in response to the pandemic and its economic consequences.
After months of lockdowns and quarantines, many decided they no longer wanted to live alone in small city flats. The thought of more space and more people with whom to share their lives has newfound appeal. And for those who lost income during the pandemic, moving back to their parents' homes has been the only way to remain financially solvent.
For parents, having adult children return home can be enjoyable, but also expensive. Another adult – with their own belongings, including costly gadgets – can require additional home insurance, higher utility bills and other financial considerations.
Living peacefully with multiple generations in the home is possible, but it's important to set boundaries and expectations. If your adult child or children want to move back, make sure you sit down and have these important conversations together beforehand.
1. What's the exit plan? 
If you don't expect your grown child to live with you forever, make sure they understand that sentiment. Ideally, you could agree on a tentative move-out date before they ever move in. If your child isn't sure when they'll be able to move out on their own, think about setting a target goal, such as when they've paid down a certain debt, or when they've been working at a new job for six months. Consider helping them meet their goals by suggesting apps or tools that can keep them on track.
2. How will you divide household responsibilities? 
Spending time with your adult child or children can be very gratifying – but you'll enjoy it a lot more if you're not constantly having to clean up their mess. Every person living in a household should contribute to the household chores, especially adults. And you're likely to begin resenting your adult child if they aren't pulling their own weight.
Avoid the potential feelings of resentment by sitting down with your adult child and discussing the household responsibilities they will shoulder, such as gardening, shopping or house cleaning. Consider making a list of regular chores to ensure you both have an understanding.      
3. How will your child contribute financially? 
Even if your child is moving in with you for financial reasons, both of you will likely feel more comfortable if they make some kind of financial contribution. It could be an affordable level of rent or sharing some of the bills. By setting up a financial payment, your child will be able to feel like an adult while they're working to meet a goal of financial independence.
If your adult child is seeking full-time employment, consider requiring them to take a part-time job or a side hustle in the meantime to help pay for some of their own living expenses.
4. How will you set boundaries? 
Parents raising children is a completely different household dynamic than adults of different generations living in the same home. Talk with your child and set expectations for both of your privacy and boundaries.
In addition to maintaining the ability to live your own life without answering questions about your whereabouts, it's important for you and your adult child to discuss your financial expectations. Your financial wellness plays an important role in your overall happiness, so make sure this living arrangement will not lead you to increase debt or keep you from meeting your financial goals. If you think the arrangement will last for a while, consider meeting with a financial adviser to help you and your adult child determine the best steps to keep you both moving forward financially.
5. How will you communicate when something's not working? 
Living together means there will be times of disagreement. It may be easy to resort to old 'parent-child' roles, but that could be damaging to your relationship over time. Your child is now an adult and entitled to make their own decisions, so discuss upfront how you'll handle disagreements. Doing so will make for a more peaceful living situation and a stronger relationship for the long term, even when you're no longer living with adult children.
Enjoy it while it lasts
When you allow your adult child or children to move back in with you, that doesn't mean your child is a failure. It means you're providing support to help them get to a point of complete financial independence. And in the meantime, you can hopefully enjoy each other's company and forge a new, adult-to-adult relationship. For most families, multigenerational living will be temporary, so lay some ground rules and enjoy this season while it lasts.