59% say regulation has altered investment advice
Tim Orton, Managing Director of Investment Solutions
Wednesday, 19 May 2021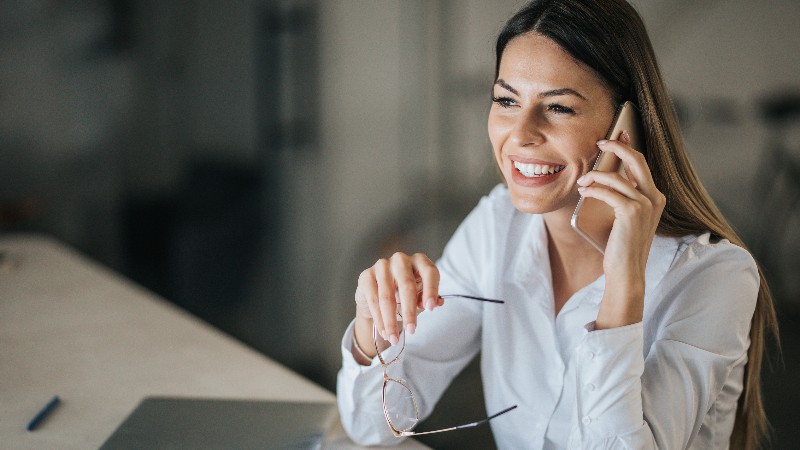 For intermediaries only
59% of advisers surveyed in our 2021 Adviser attitudes report say PROD and MiFID II have impacted their investment proposition. These two pieces of legislation have challenged the industry to be more transparent about the benefits, risks and charges associated with investment products and to demonstrate how these meet customer needs.

It's clear from our research that this has caused many firms to review their business models. The key question they're faced with is whether they will be manufacturers of investment products and therefore resource the changes required by PROD and MIFID II, or whether they'll outsource to third parties? And, if they outsource, to what extent?
Main impact of PROD/MIFID II
We asked advisers to tell us the main ways PROD/MIFID II had impacted their business. They told us they had:
increased the use of multi-asset funds,
increased the use of lower-cost solutions,
changed the way they select funds,
changed how they segment clients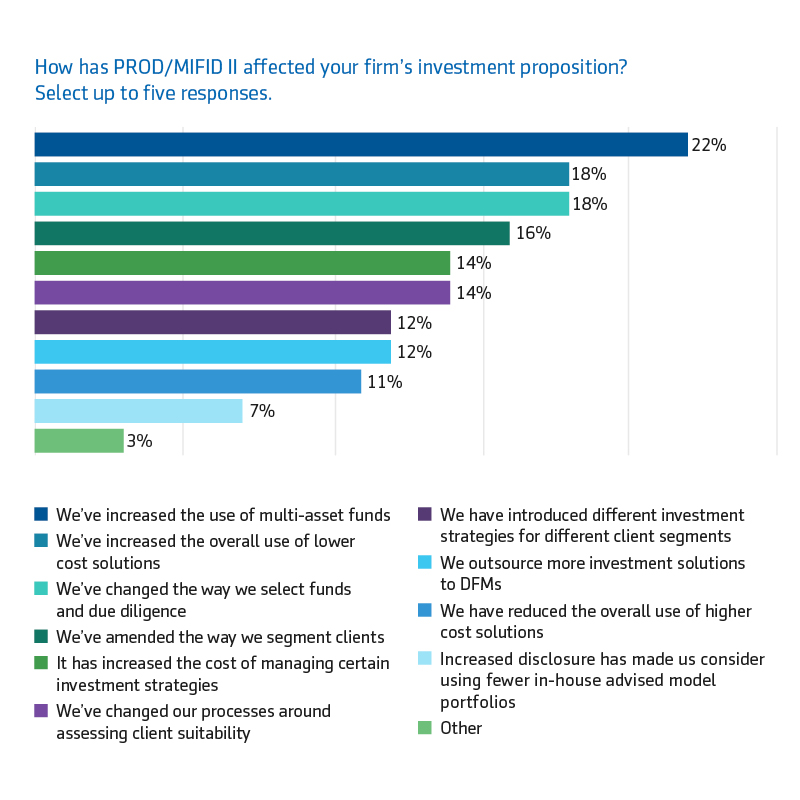 Increased use of multi-asset funds
One of the main impacts of MIFID II/PROD has been to stimulate the market for multi-asset funds. 22% of the advisers we surveyed said they'd increased their use of multi-asset funds as a result of PROD/MIFID II, suggesting the tendency to outsource is strong, and the percentage of advised assets under management in multi-asset funds grew to 33% (up from 26% in 2019).
The reasons for this are numerous. Multi-asset funds tend to have clearly defined target markets which help with meeting PROD requirements. They also have in-built governance and reporting processes in line with MIFID II requirements. Moreover, the FCA stresses the importance of customers being able to understand how their savings are invested. Simpler multi-asset strategies with supporting customer communications can help meet this requirement. 26% of the advisers we surveyed noted ease of understanding as a key reason for recommending multi-asset funds while 40% valued the ability to easily map clients to the appropriate solution for their risk profile – key factors in effective segmentation.

As such multi-asset funds are proving to be a straightforward and cost-effective way of demonstrating both client suitability and reporting transparency. We expect this trend to grow as advisers weigh up the cost and complexity of providing their own models against the benefits of choosing an off-the-shelf multi-asset solution.
Greater use of lower-cost solutions
18% of advisers surveyed have increased their overall use of lower-cost solutions, and 11% have reduced use of higher-cost funds as a result of MIFID II and PROD legislation. This is perhaps unsurprising given the regulations' enhanced scrutiny of value for money in fund recommendations, and the requirement to disclose ex-ante and post-ante costs, making higher ongoing charges figures (OCFs) more visible to clients.
A further 14% of advisers said that MIFID II and PROD had increased the cost of managing certain investment strategies. Enhanced reporting requirements are likely to raise the costs of running in-house model portfolios in particular, and this will have had the greatest impact on smaller firms with leaner budgets and models with lower assets under management.
Change to fund selection processes and due diligence
18% of advisers have taken steps to improve processes around justifying and documenting their rationale for fund recommendations as a result of PROD/MIFIDII. While this won't necessarily have resulted in a change to the recommendations they make, better documentation of rationale around the funds they offer will improve transparency and undoubtedly give greater comfort to the regulator and their clients.
Supporting segmentation
16% of advisers said they'd amended the way they segment their clients as a result of PROD. 14% said they'd changed suitability assessment processes, and 12% said they'd introduced different investment strategies for different client segments. When asked how they segment their clients, recommendations are overwhelmingly related to clients' risk appetites and capacity for loss, with 85% citing the former and 75% the latter as amongst their top criteria.
This focus on segmentation processes that came with the PROD requirements may also help explain the increasing attractiveness of ready-made multi-asset solutions that are risk-managed, aimed at clear client segments and can be simpler to match to client needs.
Regulatory change – a force for good
The investment landscape is constantly evolving and regulators, investment providers and advisers have a common goal to ensure investment propositions remain focused on the clients financial wellbeing. Our research shows a trend that pre-dates PROD and MIFID II towards simpler, cheaper investment strategies, an indication that advisers are not simply reacting to regulation, but often driving it.
What next?
Read the Adviser attitudes report to find out more
If you'd like to discuss the report or want to know more about how we can help, please get in touch with your Aegon contact or visit our investment webpages - ARC Platform or Aegon Platform.
The findings in this report are based on the views of 251 financial advisers from across the UK. Fieldwork was conducted by Opinium between 20 and 28 October 2020. Comparisons to previous surveys refer to fieldwork conducted by Opinium among 250 advisers between 25 February and 1 March 2019.
The information in this article is based on our current understanding of markets and legislation and may have changed since publication. The opinions expressed are those of Aegon.
The value of investments may fall as well as rise. Investors may get back less than they invest.