One in four people think they'll be working at age 70
Aegon Press Team
Monday, 2 July 2018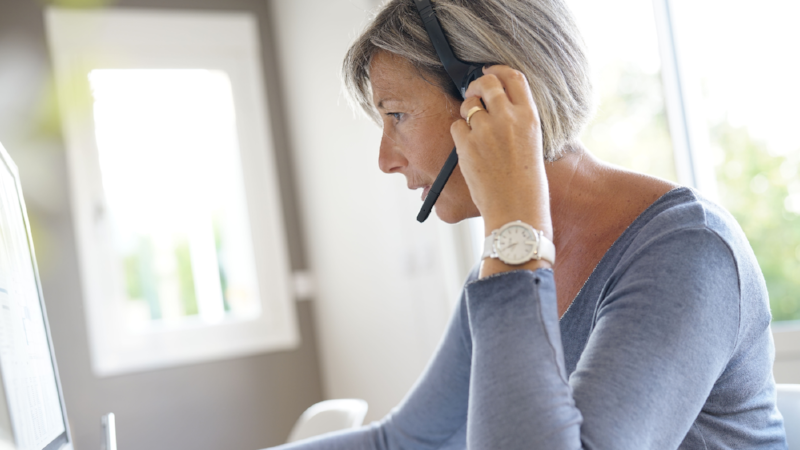 More than one in four people (26.9%) think they will be working either full or part time at age 70
45.8% of people believe they will still be fit and healthy enough to work if they choose to at age 70
A new survey* from Aegon reveals that many people believe they will be working either full or part time at age 70.
To mark the 70th anniversary of the NHS, Aegon asked a panel of 700 consumers from age 18 to 64 to reflect on aspects of life that might influence their financial well-being at age 70 such as work, health and caring responsibilities.
This year the NHS joins an increasing number of people who are celebrating their 70th birthdays. And just as the NHS is facing up to future challenges, so will individuals if they don't plan beyond their 70th birthday to ensure they have all they need to be financially secure in later life.
Employment
The survey revealed that more than one in four people (26.9%) think they will be working either full or part time at age 70, with women (24.5%) slightly less likely than men (27.5%) to think this despite them on average living longer. This suggests a clear move away from the previous practice of women retiring at 60 and men at 65.
Physical and financial fitness for the future
Working into later life is only possible for those who remain in good health, and it's positive to see that 45.8% of people believe they will still be fit and healthy enough to work if they choose to at the age of 70 although it's risky to have no fall back plan should health deteriorate. In general the survey revealed that most people envisage being physically and mentally fit and able at the age of 70.
50.1% believe they will be fit and healthy enough to enjoy their retirement fully.
65.7% believe they will be physically active at age 70.
62.6% believe they will be mentally agile at age 70.
73.5% are confident they will be financially stable at age 70.
Family commitments and caring responsibilities
Nearly one fifth of people (19.5%) think that they will still be financially supporting family when they are 70. And an additional 21.8% were unsure. This suggests the bank of mum and dad will be a feature of an increasing number of septuagenarians.
Steven Cameron, Pensions Director at Aegon said:
"Being prepared for later life isn't just about the amount you have in your pension, although a healthy pension pot certainly helps. There are other influences to consider when it comes to financial well-being. You can't predict what life will have in store at age 70, but considering your future in terms of work, health and caring responsibilities will help build a realistic picture of what you should prepare for financially.
"ONS statistics show life expectancy at 70 is almost 15 years for men and almost 17 for women**, meaning people are living well beyond their 70th birthday. Our research shows they are also expecting very different lifestyles in later life.
"It's clear that people no longer expect to retire at as early an age as their parents, and the state pension age is not the defining 'retirement moment' at which they stop work. For some, working beyond the past 'traditional' retirement age will be a lifestyle choice, but for others who put off planning ahead, it could be a financial necessity to cover living costs.
"However, it's risky to plan on working indefinitely with no fall back plan. It's difficult to predict your future health, particularly into your 70s meaning it's always best to start making some financial provision for life after work as early as possible. We recommend speaking with a financial adviser who can offer tailored advice to meet your personal needs and circumstances."
ENDS
Further information
*Research was conducted by Aegon with the Aegon UK consumer panel. Total sample size was 700 adults aged 18 to 64 years old. Fieldwork was undertaken 23 May to 10 June 2018.
**ONS National Life tables, September 2017, https://www.ons.gov.uk/peoplepopulationandcommunity/birthsdeathsandmarriages/lifeexpectancies/datasets/nationallifetablesunitedkingdomreferencetables
Stephanie Melrose
PR Manager
Aegon UK
Tel: 0131 549 6743
Mob: 07740 897 621
Notes to Editors
In the UK, Aegon offers retirement, workplace savings and protection solutions to around two million customers and employs approximately 3,450 staff. More information: aegon.co.uk
As an international life insurance, pensions and asset management company based in The Hague, Aegon has businesses in over twenty five markets in the Americas, Europe and Asia. Aegon companies employ over 28,000 people and have millions of customers across the globe. Further information: aegon.com
The value of an investment can fall as well as rise and is not guaranteed. You may get back less than the amount originally invested.
Aegon is a brand name of Scottish Equitable plc. Scottish Equitable plc, registered office: Edinburgh Park, Edinburgh EH12 9SE. Registered in Scotland (No. 144517). Authorised by the Prudential Regulation Authority and regulated by the Financial Conduct Authority and the Prudential Regulation Authority. Financial Services Register number 165548. An Aegon company.www.aegon.co.uk
© 2018 Aegon UK plc.