Four ways you could benefit from a mid-year budget review
Aegon Content Team
Monday, 3 May 2021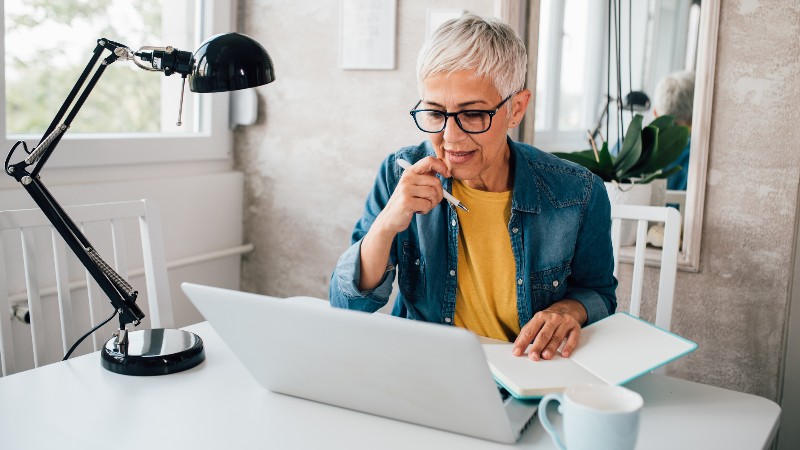 For customers
It might feel like you've only just thought about your financial priorities for the next 12 months, but in reality we're fast approaching the halfway mark. While many of us will keep an eye on our budgets on more of a monthly basis, you probably haven't had the chance to look at whether you're on track to reach your annual financial goals for this year.
Budgeting is a key financial tool that we all have in our back pocket – and can be needed more than ever in times like these. Setting targets and doing a deep dive into your personal finances can have a positive impact on your financial health too because it keeps you focused on what's important. A mid-year review doesn't need to be a complete overhaul – instead it can be a useful exercise to take stock and adjust if necessary.
Remember, if you already have a financial adviser, they'll help support you with this process to make sure you're on track.
1. Review your goals
Six months is a decent amount of time, and it may be that what was important to you at the start of the year has changed. Or your own personal circumstances and income could have adjusted – our personal finances can change from one month to the next.
So as part of your mid-year budget review, go back and look at those goals you set yourself at the start. Are they still the main aim? Or has something else become a priority? A review is not about setting a whole new set of goals. Instead try to focus on fine-tuning and adjusting the ones you've already set for yourself.
Dividing your goals into short, medium and long-term priorities can help you identify what to work towards and when. And remember, sometimes setting too many goals can be overwhelming and hinder your progress – a budget is there to help provide direction and so priortisation of goals is key.
2. Check your progress
Often we find ourselves making a budget and then not really paying much attention to it. You probably track how you're doing each month, but how often do you step back and look at the big picture? Longer term savings are just as important as short-term ones.
If you've set yourself a goal for the end of the year, are you 50% of the way there? It could be trying to reach a savings target or paying down a portion of debt. Whichever it is, if by mid-way through the year you aren't halfway towards achieving your goal, consider re-evaluating your approach.
Analysing your progress on set targets can help you make adjustments. It could be that you had some unexpected expenses at the start of the year, so you need to commit more towards building your balance back up. Or it could be that you're ahead of your target, so can afford to be a bit more flexible in the second half of the year.
Whilst reviewing your progress, don't worry if you're not quite meeting your goals just yet. Working towards goals takes time, determination and sometimes a great deal of effort – trying to work towards something whether big or small is a positive step forward. If you do achieve a goal or multiple goals, remember to try celebrate your small wins too. Feeling good about your progress will only give you more inspiration to spur you on in your financial journey.
3. Embrace technology
We're fortunate to live in a time where technology can lend a helping hand to simplify money management. So if you want to free up some of your time by automating budgeting, there are plenty of apps out there that do just that.
Apps like Money Dashboard and Yolt are free to use and can help you track and categorise your everyday spending. If you're struggling to save, then you could take advantage of Artificial Intelligence (AI) saving apps like Plum and Chip. These calculate what you can afford to save based on your spending patterns.
4. Find inspiration
If you're feeling a little off track or have lost some of your motivation (let's face it, it can happen to all of us now and again), then try exploring the world of money-based podcasts. While you're going for a walk or doing the washing up, you could also be learning about healthy financial habits.
Podcasts like The Money to the Masses Podcast and The Financial Wellbeing Podcast are packed with information on all areas of personal finance. They can help you take stock of your own money, and maybe even inform some of your future budgeting choices. For more podcast recommendations, we've put together some options for your next listen.
So, there you have it, a mid-year budget review might sound overly formal – but in reality it just involves analysing what's going well, or not so well, so you can change course if needed. It really can help keep your personal finances on track. Remember, financial advisers are highly qualified professionals who can help coach you towards achieving your financial goals and keep you accountable. If you don't already have a financial adviser, you can find one near you by visiting the Money Advice Service.
For more articles like this visit our Customer Perspectives hub.