Employee Financial Wellbeing could unlock £6.2bn for UK Employers
Aegon
Monday, 25 April 2022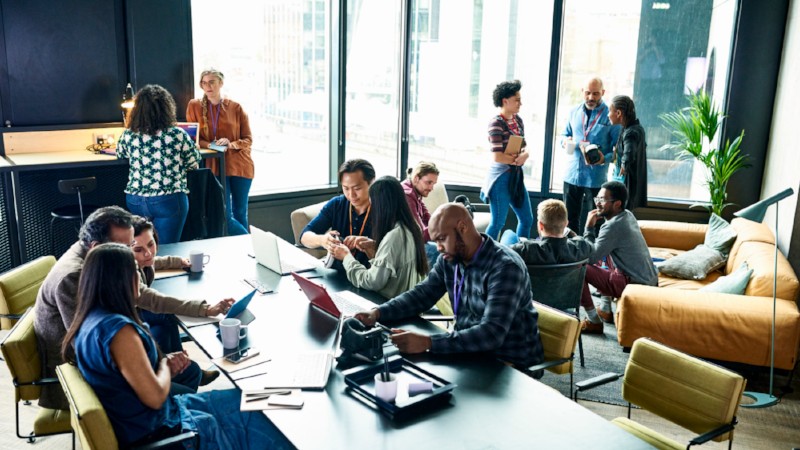 New Aegon UK White Paper shows poor financial wellbeing among employees is costing UK employers £6.2 billion a year1
This represents the cost of absenteeism and presenteeism due to financial anxiety
Nearly half of the UK workforce (49%) believes their current pension provision will not be enough to provide them with a comfortable retirement2, with almost the same number (45%) believing financial worries cause them to feel anxious3
Pensions remain the single most important and desirable employee benefit4
Financial wellbeing in the workforce is estimated to be costing British businesses more than £6 billion in lost revenues every year as workers take time off or are distracted from their work due to financial anxiety.
A new White Paper from Aegon UK identifies how 'altruistic capital' strategies, with workplace pensions at their core, can give companies a competitive edge by understanding and addressing workers' financial needs in a holistic way. This could also prove vital to attracting and retaining the best talent in a fiercely competitive recruitment environment as job vacancies surpass pre-pandemic levels5.
The paper defines altruistic capital as the principle of taking a strategic, empathetic and compassionate approach to delivering financial wellbeing for employees - a win-win that can not only be of great help to individual employees, but also significantly boost company performance, productivity and, ultimately, shareholder value.
Employees' financial wellbeing is under pressure on all fronts, from the recent economic shocks to the growing cost-of-living crisis. Nearly half (49%) of UK workers are now less confident about retiring, believing their current pension provision will not be enough to provide a good standard of living by the time they retire. As well as struggling to make ends meet now, with 4 in 10 people saying they have less than £100 left at the end of the month6, all this is affecting levels of anxiety and, in turn, mental wellbeing.
Linda Whorlow, Managing Director Workplace at Aegon, comments:
"Giving employees a sense of financial security has never been more important. Since March 2020, the mental and physical wellbeing of employees has been in sharp focus, and there is a growing need to consider financial wellbeing too. Benefits packages are front and centre in this with employees rethinking their attitude to work and the type of employer they want to work for and employers now increasingly viewing workplace pensions through a financial wellbeing lens.
"Employers can make a huge, and positive, difference to employee morale and engagement by redesigning their benefits package from a financial wellbeing perspective, focusing on better financial outcomes. The workplace pension is still the most desirable and valuable benefit - it could, and should, be deployed much more effectively to provide a deeper sense of financial security for employees."
Andy Dickson, Master Trust Strategic Development Director at Aegon, comments:
"We know that employers continue to see a strong business case for offering a competitive workplace pension as part of a standout employee value proposition. The current migration from individual company pension schemes to member-centric master trusts can act as a catalyst for positive change. By choosing a master trust that reflects employee values, employers can start to unlock the potential of pensions as a key differentiator in an employer's brand."
References
1.CEBR analysis for Aegon. Report: Financial well-being and productivity in the workplace. November 2021
2. YouGov - Will pensions be enough to provide a good standard of living upon retirement? (yougov.co.uk)
3. Aegon Financial Wellbeing Index – flipbook (theapsgroup.scot)
4. Moneypenny Benefits Survey, August 2021
5. ONS, Vacancies and jobs in the UK, July 2021
6. Aegon Financial Wellbeing Index – flipbook (theapsgroup.scot)
Notes to Editors
In the UK, Aegon offers pension, investment and protection solutions to over 3.8 million customers. Aegon employs over 2,000 people in the UK and together with over 1,000 people employed by Atos, we serve the needs of our customers. More information: www.aegon.co.uk  Figures correct as at 31/12/2020
Aegon UK is part of the wider Aegon Group, based in the Netherlands, whose roots go back to the first half of the nineteenth century. Since then, Aegon has grown into an international business, with 30.4 million customers in multiple countries and EUR 979 billion of revenue generating investments as at 30/09/2021. More information on www.aegon.com
The information in this press release is intended solely for journalists and shouldn't be relied upon by any other persons to make financial decisions.