Discover the value in supporting employees financially
Aegon Content Team
Friday, 19 November 2021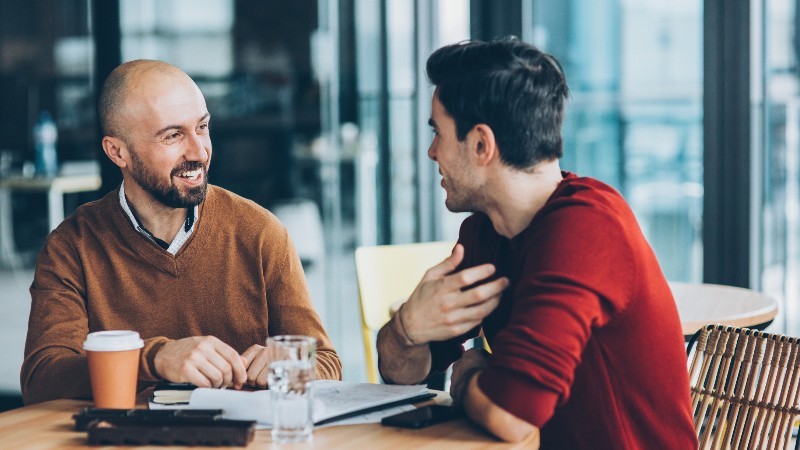 For employers only
Workplace benefits such as gym memberships, dental plans and discounts can be a draw for talent but what do employees really feel helps them with their finances and financial wellbeing?
One third of UK adults have said that the pandemic has caused them to worry about their finances.1 This means supporting employees with their money and mindset is more important than ever. Here are a few things for you to consider.
1. Direct them to find out more about financial wellbeing
Inspiring employees to better understand their finances is the first step towards better financial wellbeing. If you're not sure how to do this or are short on time, our financial wellbeing hub for employers is packed with research-backed insights and resources for you to use.
Create a culture of support by encouraging employees to be more open about their financial wellbeing and helping them understand how to improve it.  It's a good idea to start by better understanding the needs of your business – to identify if there's any areas you could initially focus in on. This can be done through anonymous surveys, an internal poll or one-on-one meetings.
When it comes to financial education, direct them to our Financial Wellbeing Flipbook. It breaks down the 10 building blocks that make up financial wellbeing. Each section offers insight, practical guidance, and support to help employees review their financial situation and takes steps towards creating a long-term financial plan. You can also recommend they then go on to use our picture your best life tool where they can build a vision board to help keep them focused as they save.
Don't forget: if your company offers financial benefits such as short-term loans, savings schemes, store discounts or vouchers for services such as childcare – promote that this is available and a valuable resource.
2. Engage your scheme's members with their workplace pension
Workplace pensions are a significant investment for most employers, yet they can also be a valuable benefit to both attract and retain talent.
Being able to save for the long-term and towards retirement is a key part of good financial wellbeing, so helping them understand their workplace pension and what you contribute towards it is beneficial.
There are several ways you can engage your workforce with pension saving: 
Communicate information to employees about their workplace pension in a way that's easy to understand – try different formats such as webinars and videos.


Talk positively about your workplace pension and encourage employees to use their online services to better manage their pension.


Think about discussing contributions – including the contribution you make to their pension and the tax benefit they receive from HMRC. This shows how much you invest in their pension and could make employees value it more. You can read claiming tax relief for a workplace pension, from our Pensions Technical team for more guidance. This information is based on our understanding of current taxation law and HMRC practice, which may change. Remember that the value of any tax relief will depend on individual circumstances.
You can discover more useful information in our employee toolkit. 
3. Show employees the positives of accessing financial advice  
Working with a financial adviser might seem daunting for your employees or could just be something they've not considered. A financial adviser can help your employees see their full financial picture and help them form a long-term plan. A good adviser will tailor their advice to the client, addressing their needs, tackling challenges and putting a plan in place that will suit their bespoke needs, even as circumstances change.
If your employee hasn't used an adviser before, here are some things to think about: 
By working with an adviser, your employee can still have control over their finances – but they'll have the added expertise, knowledge, and strategy of a professional on their side. Having an adviser as their expert could make things simpler, safer and the decisions a little easier.


When your employee speaks to an adviser they'll be able to give them a guide on costs upfront – they may charge a flat fee or make a charge as a percentage of their total assets. A good adviser will be transparent about this, and your employee should feel comfortable to ask.
 
Make sure the financial adviser your employees have access to are qualified and meets professional standards and is authorised by the financial regulator, the Financial Conduct Authority. 
If you have a workplace scheme adviser, let your employees know they can set up an initial discussion with them. If you don't have this option in place, looking into if employees can get a discount for financial advice as a benefit might be worthwhile – or they can find a financial adviser through MoneyHelper. 
4. Check out these 7 tips for dealing with financial stress   
With all of this in mind, we have created this simple list of tips for you to use and adapt in your own communications with your employees – to get the conversation started.  
It can be easy to overlook our own stress levels, so check-in with how you're feeling and be honest with yourself about whether your financial worries are having an impact on your wellbeing. 
 
Talk to family and friends about your concerns. Money is often – and unnecessarily – seen as a taboo but opening up can dissolve the tension and help you find solutions. 
 
The fear of seeing numbers on paper can put many people off from dealing with the issue. Look at your finances at a time when you aren't distracted by other stressors, like kids or work. You may find that creating a relaxing environment through music or lighting, or rewarding your effort with a cup of tea and biscuits helps you get started too. 
 
Take advantage of financial advice offered by experts or public bodies. Speak to your workplace scheme adviser, of if you don't have one, you can find a financial adviser though MoneyHelper.
 
The best way to relieve financial stress is to take action. Even if you can't resolve your financial worries now, the act of planning what you need to do and how, will give you a better sense of control. For example, spend some time getting to know your company pension plan, so you can see how both you and your employer are already saving up for a better future. Our future focus hub also contains lots of insightful articles.
 
Consider speaking to your manager or HR team if your stress levels are having an impact on your ability to concentrate at work. They are here to support you through times like these. 
 
There are lifestyle strategies that are known to help you take better care of yourself. Getting quality sleep, taking exercise, and eating a balanced diet are all known to help with your mental health.       
Next steps
Helping your workers become more fluent in financial matters and more confident with their financial decisions could help ease any feelings of stress and anxiety. As employees usually select their benefits once a year, they can forget what is available them. To combat this, try being more proactive about communicating the benefits on offer, especially when it's about offering financial support. 
Sources:
1 The COVID-19 pandemic, financial inequality and mental health, Mentalhealth.org. Data Source, 2021