Climate risk is key concern for savers but only 15% say they invest in ESG funds
Aegon Press Team
Wednesday, 14 April 2021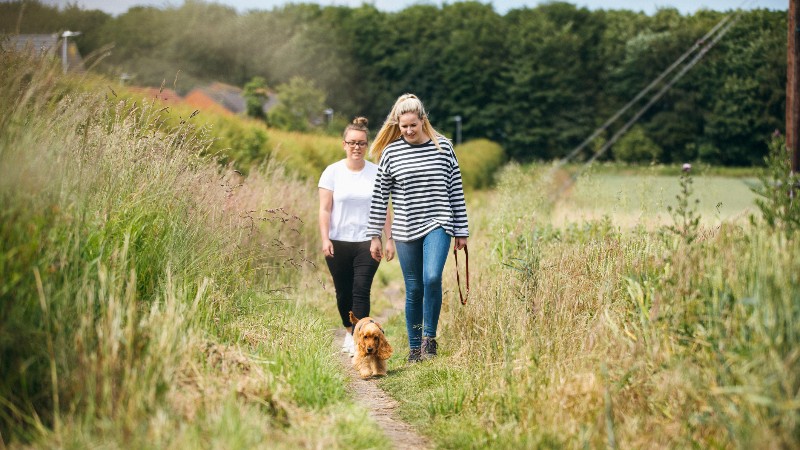 77% say climate change is an important risk to consider when investing but only 15% of people noted environment, social and governance (ESG) investing as a way they're actively supporting a sustainable society.
This compares to 95% who said they recycle or 59% who cited avoiding single-use plastics, suggesting a disconnect between people's values and their investment decisions.
An increasing proportion of peoples' pensions and investments will have some ESG component as ESG mandates are increasingly integrated into workplace default funds.
Savers need more information and clearer communications to better understand the benefits of ESG investing to the environment, society and their savings.
Increasingly, people are conscious of their impact and making positive contributions to support a more sustainable world, such as recycling and using environmentally friendly products. However, according to a recent survey¹ by Aegon UK, ESG investing, also known as responsible or sustainable investing, is at the bottom of the list with only 15% of those surveyed noting it as a way they're actively supporting a sustainable society.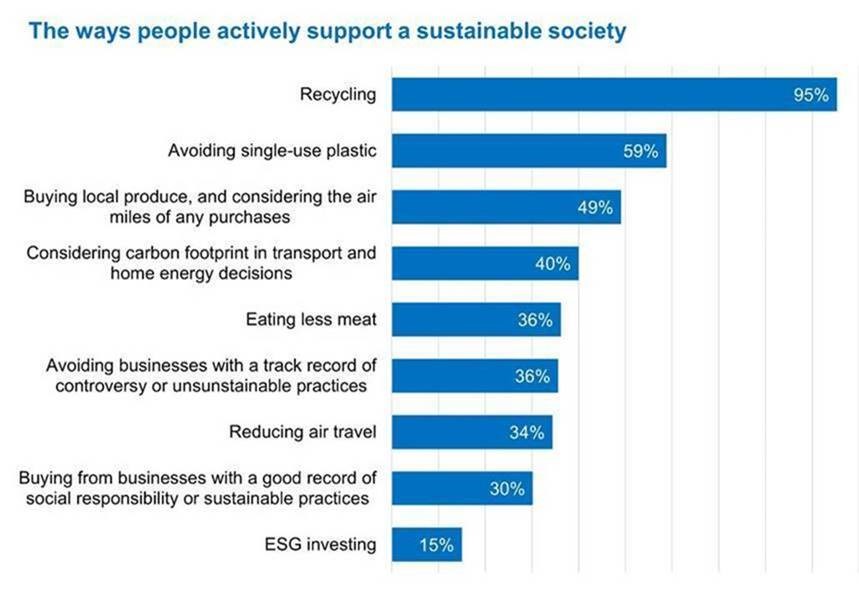 People were significantly more likely to undertake tangible, day-to-day activities, such as recycling (95%), avoiding single-use plastics (59%) and buying local produce (49%), than they were to invest in a socially responsible way.
Despite the low usage of ESG investments, 77% say climate change is an important risk to consider when investing, suggesting a disconnect between people's beliefs and the way their savings invest.
However, there are signs that ESG investments are gaining significant traction and a growing proportion of the population will have some exposure to ESG strategies through their pension and investments. UK savers put almost £1 billion a month on average into ESG funds in 2020², up 66% on the previous year. And 41%³ of advisers note an increase in demand for ESG investments. Supporting this demand, regulatory change is driving reforms to both workplace pensions and the financial advice sector, with ESG considerations becoming more firmly embedded into fund selection processes.
There are a number of reasons why ESG is not front of mind and the survey asked what would help people make more sustainable investment choices. Just over 50% said they'd like more information to help them understand ESG investing and this was closely followed with requests for clear labelling (43%), more ESG investment choice (39%), and better articulation of the benefits and ESG impact (45%). 45% of those surveyed currently rely upon search engines for information on ESG.
Despite growing demand for ESG investing there are still many barriers stopping this becoming a more mainstream method of positive change.
Tim Orton, Managing Director of Investment Solutions at Aegon UK, notes:
'It's clear few people understand what is meant by ESG investing and that's not surprising given that within the investment industry there are debates about what it constitutes. At the moment, it's the more tangible day to day acts like recycling and avoiding single use plastic that people think of when considering how they're contributing to a more sustainable planet.
'But the reality is many people will now have a proportion of their pension in ESG strategies – although they may not be aware that this is the case. Workplace scheme default funds like Aegon's, which are used by 95% of defined contribution scheme members⁴, are increasingly integrating ESG considerations into their investment processes. The industry has a role to play in communicating how ESG investing works and to spell out the benefits of investing in this way.
'Over the long-term, investing in a sustainable way can have a meaningful impact on how businesses are run and how they interact with society and the environment. It can also have a positive impact on the value of people's savings. At Aegon, we've committed to net zero emissions by 2050 across our default funds and have already added significant allocations of customers' savings to ESG investments in our workplace default pension funds.
'These actions will have a greater impact if we can engage customers and help them understand how their savings are contributing to a more sustainable world, and how easy it can be to select a fund with a sustainable investment agenda.'
The value of investments may go down as well as up and investors may get back less than they invest.
References
¹ Customer research carried out by Aegon using customer panel. Sample size 5,687. December 2020.
²The Investment Association, March 2021, https://www.theia.org/media/press-releases/responsible-investment-funds-under-management-66-over-12-months.
³ Views of 251 UK financial advisers. Fieldwork by Opinium, commissioned by Aegon, October 2020.
⁴ The Pensions Regulator. DC trust: scheme return data 2019 - 2020. File 2: Membership – table 2.14.
Further information
Jonathan Henderson
Head of PR
Aegon UK
Jonathan.Henderson@aegon.co.uk
Notes to Editors
In the UK, Aegon offers retirement, workplace savings and protection solutions to over three million customers. Aegon employs around 2,000 people in the UK and together with a further 800 people employed by Atos, we serve the needs of our customers. More information: www.aegon.co.uk
Aegon's roots go back more than 175 years – to the first half of the nineteenth century. Since then, Aegon has grown into an international company, with businesses in the Americas, Europe and Asia. Today, Aegon is one of the world's leading financial services organisations, providing life insurance, pensions and asset management. Aegon's purpose is to help people achieve a lifetime of financial security. More information on www.aegon.com
Figures correct, January 2021