Case study – using pensions for redundancy tax planning
Martin Haggart, Technical Development Manager
Thursday, 7 October 2021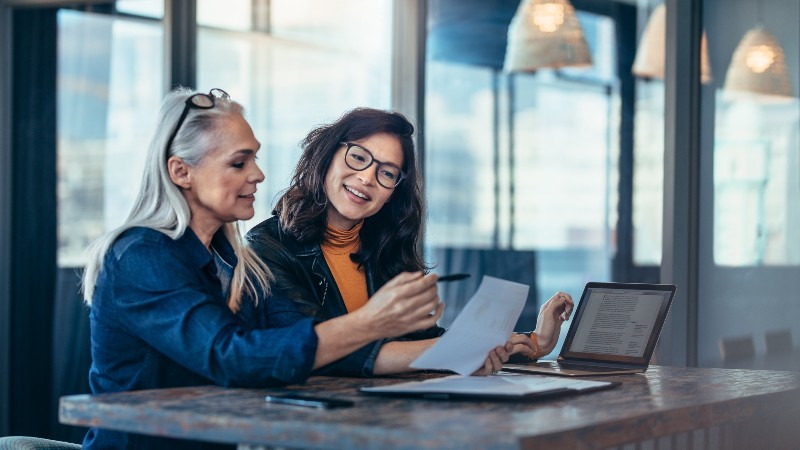 For financial advisers only
We all know the pandemic has had a negative impact on economies worldwide. While the Government's Coronavirus Job Retention Scheme undoubtedly allowed employers to protect many thousands of jobs across the UK over the last 18 months, it ended on 30 September 2021. This is likely to lead to an increase in the number of jobs being made redundant as businesses continue to adapt and restructure to survive.
For the majority of people, losing their job will bring concerns, uncertainty and possible financial hardship so specialist advice can be invaluable when looking at debt management, reducing ongoing costs and the suitability (or otherwise) of replacing lost income by accessing pension savings.
Tax planning
For some it may bring a tax planning opportunity to use part, or all, of their redundancy payments as an investment into a registered pension scheme. The information in this article is based on our understanding of current taxation law and HMRC practice, which may change. In addition, the value of the reduction in tax and National Insurance will depend on an individual's circumstances and could change.
Case study
The following case study illustrates when a redundancy payment could be used effectively – either to make a personal contribution, or if the employer agrees, to give up part of the payment in return for an employer contribution to boost the level of pension savings and minimise tax payable.   
Sally is age 57, a higher rate taxpayer and has been with her employer for 15 years. Her employer has been experiencing financial difficulties and regrettably has announced some job redundancies. Sally's role is one of those affected and she's been informed of an entitlement to a termination payment of £90,000.
In line with legal requirements, her employer has provided a detailed breakdown of the different components of the payment, showing that £12,000 will consist of outstanding bonus, payment in lieu of notice and holiday pay – these payments are subject to income tax and national insurance contributions (NICs).  
The balance of £78,000 will represent her contractual redundancy payment for loss of office. If paid in full, the first £30,000 would be payable tax free and the balance of £48,000 would be taxable at Sally's marginal rate (although not subject to Employee NICs). Both the amounts of £12,000 and £48,000 would be classed as relevant UK earnings for the purposes of making personal contributions to a registered pension scheme.
Sally has some existing investments and receives regular income from a different source. Her existing pension savings are not at a sufficient level to provide her with a lifetime of financial security and so she's considering making a personal contribution, or sacrificing part of her redundancy payment to allow her employer to make a pension contribution on her behalf.
Since April 2020, Employer NICs are payable on any element of a contractual redundancy payment that exceeds £30,000 and this could make Sally's employer agreeable to facilitate a redundancy sacrifice. She hopes that her employer might be persuaded to add in part, or all, of its NICs saving on the basis that it will not cost her employer any more than it would have done if the redundancy payment was paid to her in full.
The three main options are:
Receive the full redundancy payment and then pay a personal contribution (option 1).
Sacrifice the amount over £30,000 in return for an employer contribution with the employer retaining its full NICs saving (option 2a).
Sacrifice the amount over £30,000 in return for an employer contribution with the employer adding in its full NICs saving to boost the pension contribution (option 2b).
Sally and her financial adviser will need to consider her wider financial situation and any advice arising from that, along with each of these three options when deciding what to do.
To bring these three options to life, they've been illustrated below.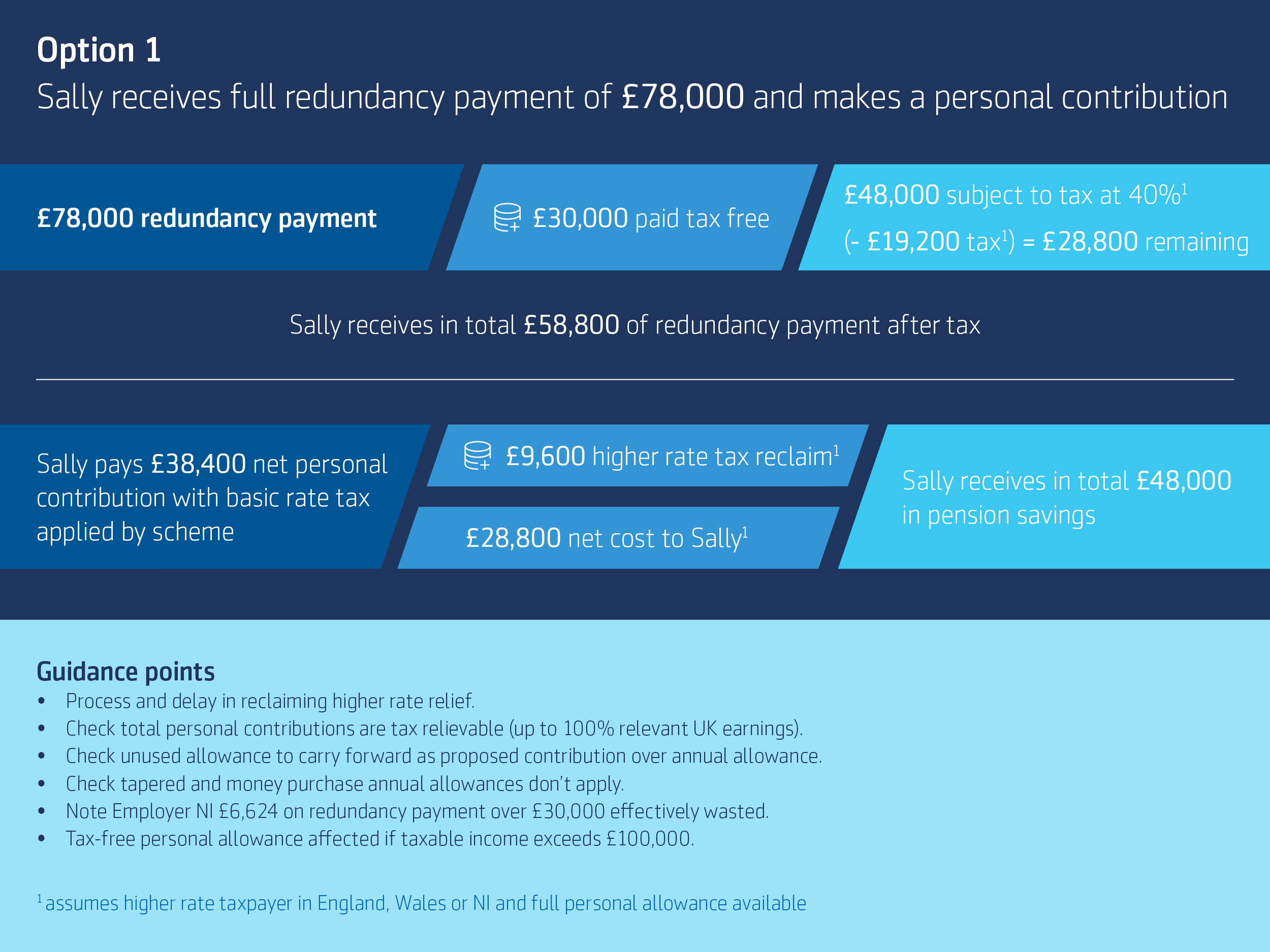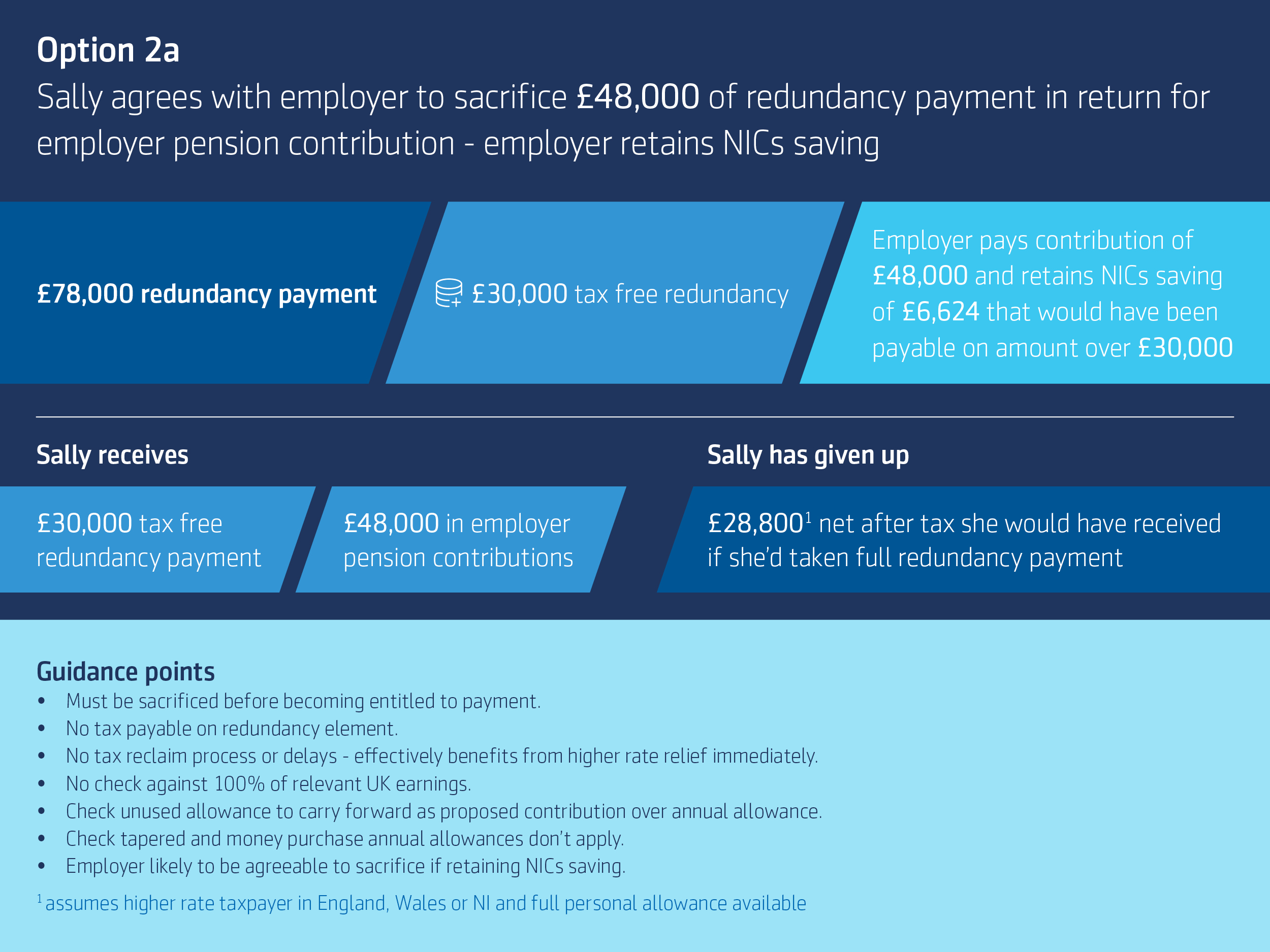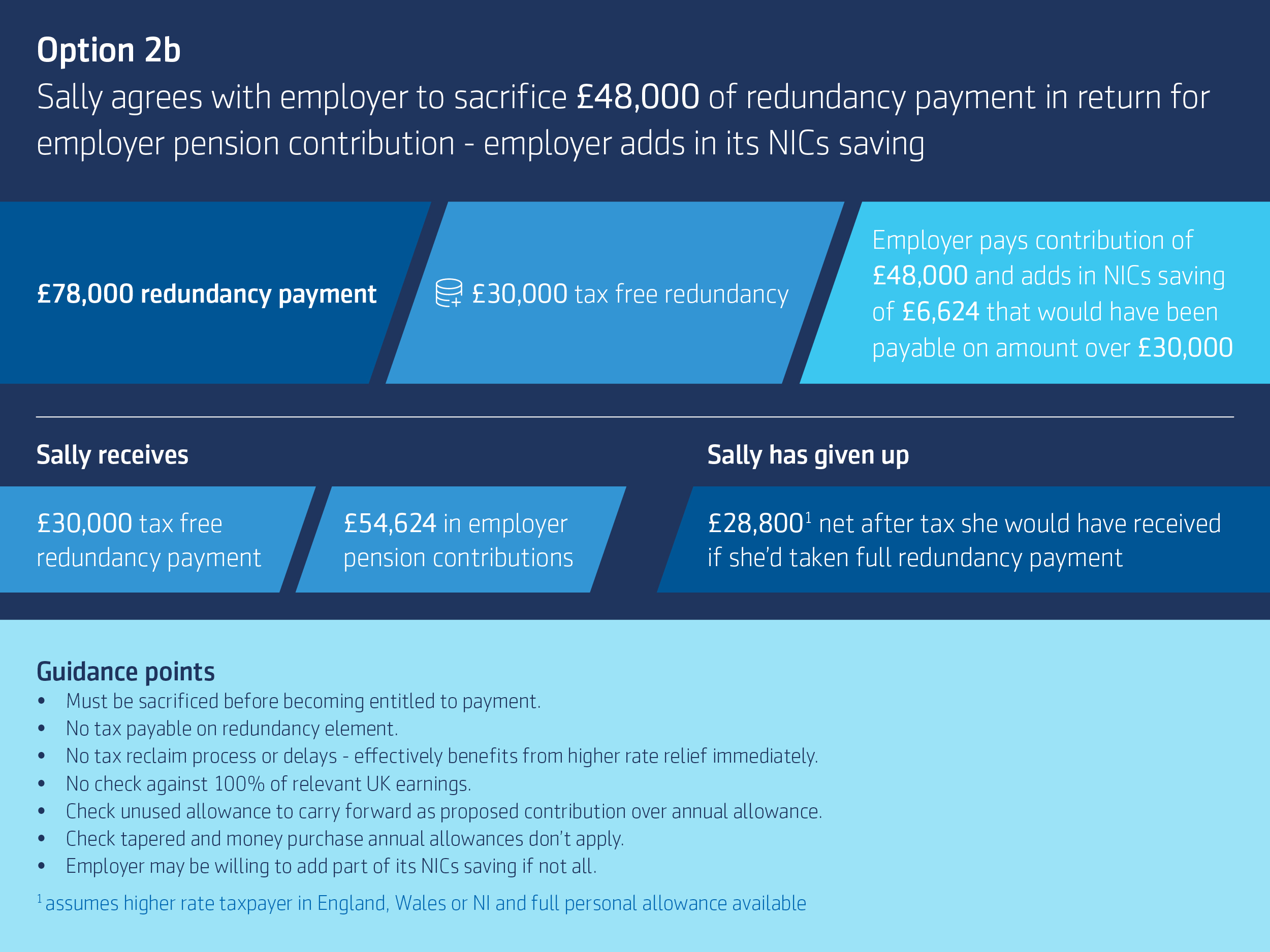 As Sally is over the minimum benefit age 55 (changing to 57 from 2028) she'd be eligible to start taking her benefits immediately after the contribution is made.
She'd be entitled to take up a tax-free lump sum up to 25% of the amount crystallised (or 25% of her available lifetime allowance if less) with the balance of funds being available to provide income immediately or in future.
The net cost to Sally (the difference between her initial outlay minus the tax free lump sum) and the level of her pension savings remaining available to provide taxable income for each of three options is considered below - these ignore any investment growth in the pension savings for ease of reference.
The overall cost to Sally's employer will be the same under options 1 and 2b, or her employer may choose to make a saving by retaining all (option 2a) or part of its NICs saving.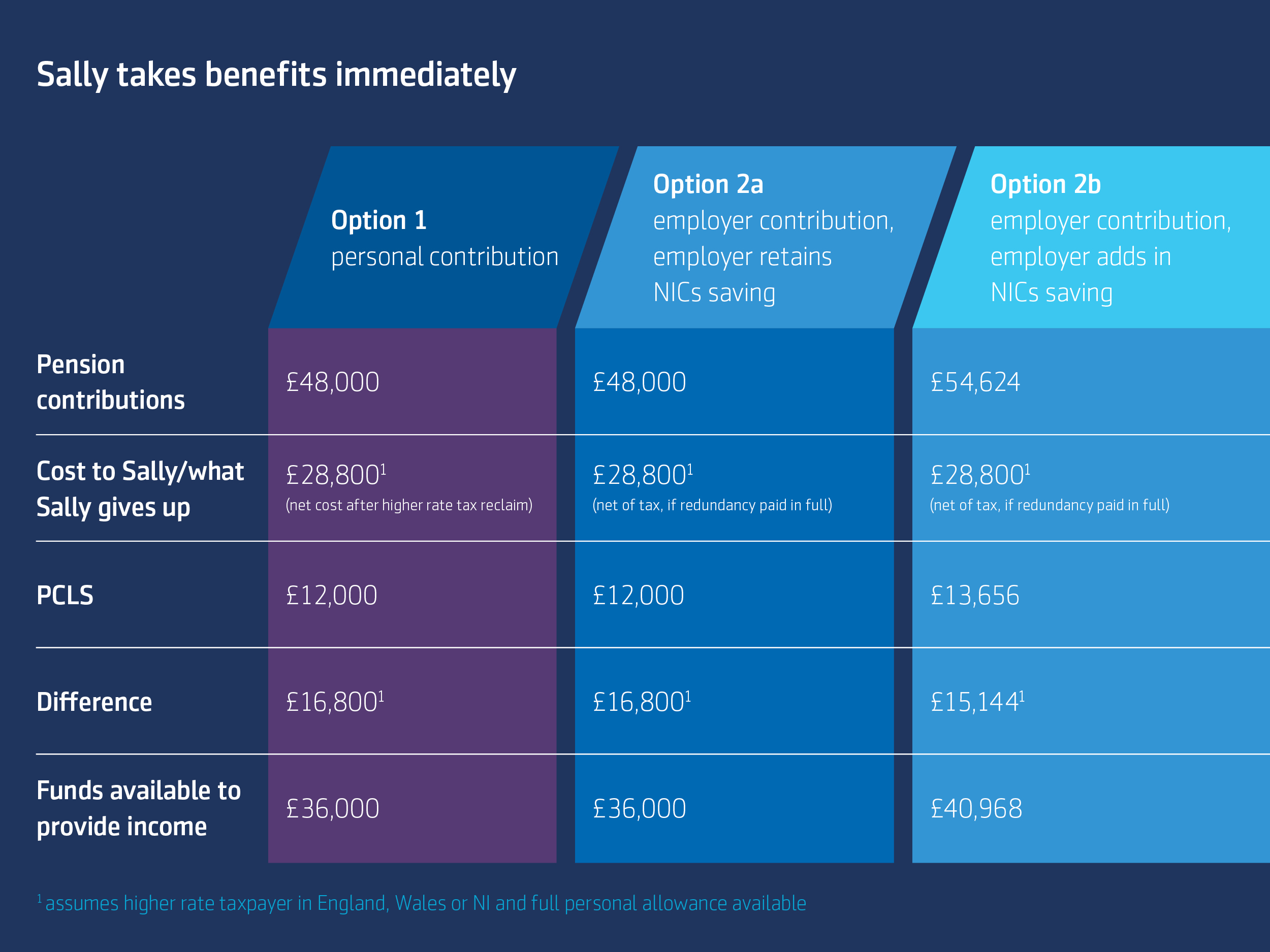 Please see our FAQs in our technical zone for more information on redundancy payments and further examples of pension tax planning with these payments.