Aegon UK makes £250,000 donation to support charities through coronavirus
Aegon
Monday, 11 May 2020
£200,000 donated to charities supporting the coronavirus relief effort
£50,000 in donations to 2020 Aegon UK corporate charity partners
Aegon UK has donated a total of £250,000 to various charities to aid the coronavirus relief effort and support the Aegon corporate charity partners.
Two national charities heavily involved in the coronavirus relief effort were selected by employees to receive a donation of £100,000 each.
The Royal Voluntary Service is working tirelessly to minimise the impact of coronavirus on older and vulnerable people who might be feeling more worried and isolated than ever before.
The Trussell Trust is fighting hunger and poverty in the UK a problem that is being intensified by the coronavirus. In the last two weeks of March they provided over 6,250 emergency food parcels to people in crisis each day and close to 3,000 for children every single day.
In addition to this, the nine employee selected charity partners for 2020 (listed below) also each received a share of £50,000.
Donations to Aegon UK charity partners are usually raised through employee fundraising which is then matched by the business. On this occasion Aegon UK has made a specific company donation to support charities through the coronavirus crisis.
Another £8,000 raised by staff across the Aegon UK sites in Edinburgh, London, Witham, Salford and Peterborough alongside Atos colleagues was also donated to the corporate charity partners last month.
Mike Holliday-Williams, CEO, Aegon UK comments:
"Right now, charities need our support more than ever. The work they do is crucial to the community so it was important to everyone at Aegon UK that we support not only our charity partners but also other charities helping with the coronavirus effort.
"The demand on their services is huge and their work in communities across the UK has never been more vital.
"It's incredibly inspiring to see that even while our employees are staying safe at home dealing with their own individual lock down challenges, they continue to show their dedication and commitment to giving back to those who need it most.
"Employees and their families have been coming up with ideas to continue raising these much needed funds from the comfort of their own homes. One of these is the recently launched 555 challenge where employees run or walk 5K, donate £5 and nominate 5 colleagues. The challenge helps to encourage people who are able, to take their daily exercise while also helping a good cause. I completed my 5K last week and have nominated some colleagues to take part."
Sam Ward, Deputy Chief Executive and Director of Services, Royal Voluntary Service comments: "Our services provide a lifeline to vulnerable older people but now, due to the outbreak of Coronavirus, the need for our help has become even more vital. This very generous donation from Aegon will enable us to support more vulnerable people during this crisis now and in the months to come through companionship calls, helping people access food and essential medication, delivering welfare checks and providing virtual social activities to keep people connected. We are determined that isolation shouldn't mean coping alone. "
Samantha Stapley, Chief Operating Officer, the Trussell Trust said:
"We are so grateful for the support Aegon are offering the Trussell Trust. With our network of food banks reporting an 81% increase during the last two weeks of March, support is more vital than ever. We're working closely with our network so they can respond to the immediate crisis and provide emergency food safely to people who can't afford food, while at the same time campaigning for changes that would ensure all of us have enough money for essentials. Thank you."
Jayne Forbes, Area Fundraising Manager in Scotland for Macmillan, comments: "Thank you so much to Aegon UK and all their staff for this wonderful contribution. It comes at a time where Macmillan's support is needed more than ever as we face a significant drop in our income and increased demand for our services in supporting people living with cancer.
"Aegon UK and their employees have been valued supporters of Macmillan over many years and we are incredibly grateful for everything they have done for us."
Angharad Low, Corporate Partnerships Manager, CHAS comments:
"This is a difficult time for everyone but for families caring for some of Scotland's most vulnerable children, self-isolation is particularly hard. CHAS needs to be there for these families now more than ever, and this incredible gift from Aegon will help us do exactly that!
"These funds mean that where families can't visit the hospice because they are self-isolating, we can come to them through our UK's first virtual children's hospice. Aegon's generosity will help ensure that families will be able to continue accessing nursing and medical advice, bereavement support and practical advice online or by phone. CHAS nurses and volunteers will call for a friendly chat and to check in. Clowndoctors will make the whole family laugh through virtual visits. Online activities such as art clubs and storytelling sessions will keep everyone smiling.
"There has never been a more important time to keep the joy alive. Thank you so much for making this a reality in these uncertain times."
Natasha Robertson, Fundraising Manager, Essex & Herts Air Ambulance comments:
"Raising funds is even more vital at present. We currently estimate a £500,000 income gap resulting from cancelled events and fundraising activities due to coronavirus, so donations such as this one from Aegon are really welcome.
"Our crews are going the extra mile at the moment to care for the most seriously sick and injured around the clock, but we are confident that the people of Essex and Hertfordshire will continue to support their local life-saving charity in these challenging times."
Debbie de Boltz, Fundraising Manager SLF, Farleigh Hospice comments:
"At Farleigh Hospice we are committed to continue providing care to those with life limiting illnesses in mid-Essex and are continuing to do so in patients own homes during the coronavirus pandemic. The current public health situation will stretch our resources to the limit. We are providing end of life care and complex symptom management for our patients and support their carers and families. We have pooled all of our clinical resource into providing an increased amount of community care. We have set up our Farleigh Helpline, which includes an overnight Clinical Nurse Specialist team 'Night owl' service. This 'virtual care team' has provided an essential contribution to our overall offer and has helped to relieve the pressure from the increasing workload of our frontline Community Teams.
"The difference the donation from Aegon will make, will allow Farleigh to continue providing our free of charge hospice-at-home care during the coronavirus pandemic. Our planned fundraising programme has had to be cancelled and since a major part of or fundraising involves mass participation events, and our shops which are all closed, our income this year will be severely affected.
"Your thoughtfulness and your support at this time is so very much appreciated."
Jean Mills, Head of Business Development, Forever Manchester comments: "We'd like to say a big thank you to Aegon for this wonderful donation. This will really help Forever Manchester to fund vital projects in Greater Manchester such as food banks, domestic violence support groups and mental health groups who are reaching out to members of their local communities who are suffering the impact of coronavirus in these difficult times."
Nick Thompson, Chairman, Dianne Oxberry Trust comments: "I am delighted to extend my warmest thanks on behalf of the Dianne Oxberry Trust to Aegon for their kind and generous donation. The Dianne Oxberry Trust is a young charity still in its infancy. We depend upon the generosity of companies such as Aegon and their dedicated staff to help us raise the money we need to fund our work in raising awareness of the symptoms of Ovarian Cancer.
"Your donation will help us reach out to our core target of women aged between 45 and 60 across the North West. So we are extremely grateful to Aegon and their Retail Sales Centre in Manchester who have pledged their continued support. It will make all the difference in these challenging times."
Lottie Driver, EACH Cambridgeshire Corporate Fundraiser, comments: "We know this is a very challenging and uncertain time for everyone, and for EACH the financial impact of the COVID-19 outbreak has been overwhelming. With our shops closed and fundraising events cancelled or postponed, our potential loss of income over 12 weeks is £1.8 million. This means we need support like never before, so a huge thank you to Aegon for recognising this and making such a generous donation, despite how difficult it is to do traditional fundraising at the moment. This money will go towards our emergency fundraising appeal at www.justgiving.com/campaign/each-covid19 With the help of businesses like Aegon, as well as all our fantastic supporters right across the region, together we can make sure vital care and support is still available for the children, young people and their families who need us during and beyond this difficult time."
Claire Du Preez, Alzheimer Scotland Corporate Partnerships Manager comments:
"We would like to thank Aegon for reaching out and supporting Alzheimer Scotland so generously at this challenging and uncertain time.
"In response to the restrictions we now all face, we have made significant changes to the support we offer. Our priority is to continue to make sure nobody faces dementia alone, and we are doing so in a number of valuable ways. This includes boosting the capacity of our 24 hour Freephone Dementia Helpline (0808 808 3000) providing a lifeline for people to access information, emotional support or have a much-needed chat with someone who cares and understands.
"This generous donation from Aegon will help ensure that we have the funds and infrastructure available to support the increase in calls and provide vital digital support for people living with dementia and their carers and family members throughout the coronavirus pandemic. Thank you Aegon."
Hayley Rainey, Head of Community and Volunteering, London's Air Ambulance Charity comments: "Thanks to Aegon for their recent donation to London's Air Ambulance Charity. We continue to be here 24/7 for every one of the 10 million people who live and work in London, while also supporting nationwide efforts to manage the impact of coronavirus. Many of our usual fundraising activities are on hold right now but there are still ways to support the charity which can be found on our website - https://www.londonsairambulance.org.uk. We will continue to offer ways to get involved in the charity that don't involve face to face interaction – for example through our much-loved lottery."
Aegon's corporate charity partners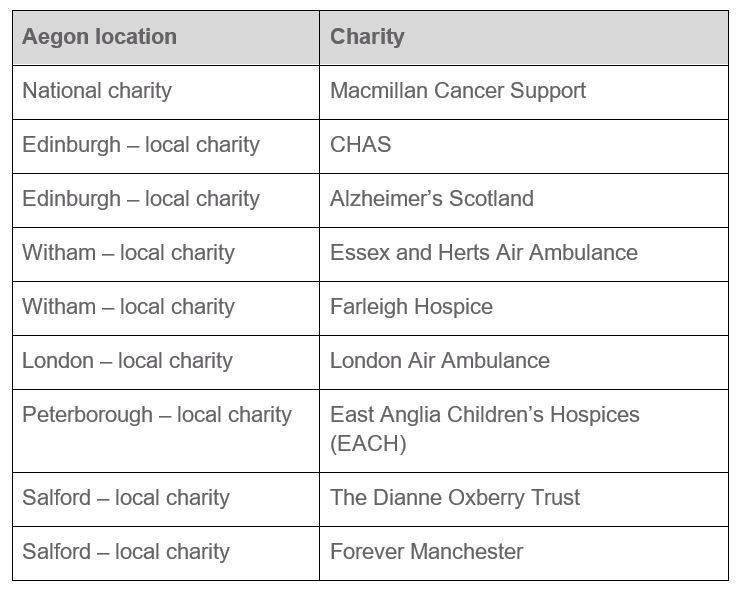 Further information
Stephanie Melrose
PR Manager
Aegon UK
Tel: 0131 549 6743
Mob: 07740897621
Notes to Editors
In the UK, Aegon offers retirement, workplace savings and protection solutions to over three million customers. Aegon employs around 2000 people in the UK and together with a further 800 people employed by Atos, we serve the needs of our customers. More information: aegon.co.uk
As an international life insurance, pensions and asset management group based in The Hague, Aegon has businesses in over twenty markets in the Americas, Europe and Asia. Aegon companies employ approximately 26,000 people and have millions of customers across the globe. Further information: aegon.com
Figures correct as of November 2019