Aegon trains mental health first aiders to support wellbeing
Aegon Press Team
Wednesday, 9 October 2019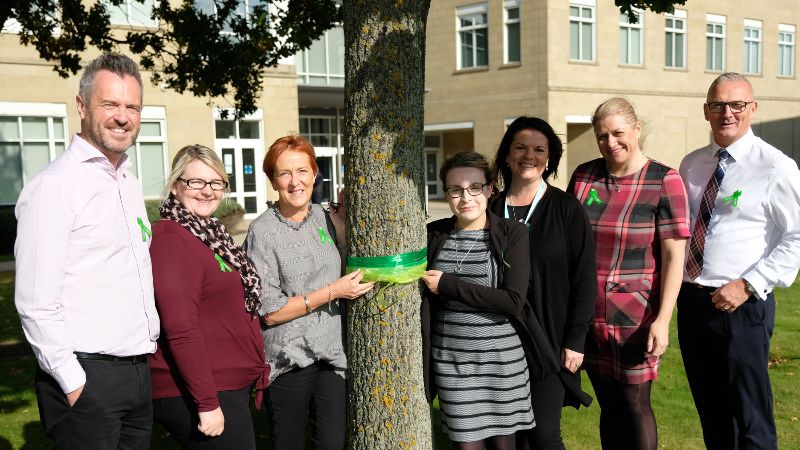 Aegon UK has trained 27 employees across 3 sites (Edinburgh, Witham and Peterborough) to be mental health first aiders (MHFAs)
The development of the MHFA teams began in May 2018, in Edinburgh before identifying and training volunteers in the Witham and Peterborough offices.
The two day training was given to volunteers to allow them to support colleagues across the business as part of Aegon's wellbeing in the workplace programme.
It aims to equip MHFAs to spot the early warning signs of deteriorating mental health, understand the importance of early intervention in these cases and know how to respond to crisis points, such as panic attacks or the intention to self-harm or attempt suicide.
MHFAs can then help by signposting the wider support available to them in the workplace. These include an online wellbeing hub and access to counselling via Aegon's Employee Assistance Programme or via a specialist mental health service operated by Aegon's health insurance provider, which gives employees access to appropriate care without the need to see a GP first.
The MHFA training programme will be extended to all other Aegon offices over the coming few months.
Dougy Grant, a managing director and sponsor of Aegon UK's Workplace Wellbeing programme comments:
"As long as I can remember we have had physical first aiders within the business. It's only natural that we provide the same level of care for people's mental health.
"Mental health is just as important as our physical health, and we need to make sure we take care of it. Most of us don't think twice when seeking to address physical health problems, and it should be the same when it comes to our mental health. As in the case with physical health, the earlier you can address the issue the better.
"The mental health first aiders in the workplace can provide support to any employees experiencing any signs of stress or mental health issues. And hopefully will be able to help those who need it with sources of support information and emotional support before things escalate."
The introduction of mental health first aid training is just one part of a wider programme of initiatives being rolled out within the business to embed the principles of good mental health within the business and create a more inclusive work environment that actively supports employees' mental wellbeing. Others include the introduction of a wellbeing zone and library, mental health awareness sessions, organised lunchtime walks, encouraging walk and work meetings and weekly yoga sessions for employees.
Aegon wants to create a work environment that respects inclusion and diversity, where everyone can contribute and be their authentic self.
Grant explains: "By helping people be at their best, we are more likely to be successful as a company. We are determined to embrace diversity in all its forms and to create a workplace where every employee can equally fulfil their potential."
Notes to Editors
As with all investments, the value can fall as well as rise and isn't guaranteed. Customers could get back less than originally invested.
In the UK, Aegon offers retirement, workplace savings and protection solutions to over three million customers. Aegon employs around 2000 people in the UK and together with a further 800 people employed by Atos, we serve the needs of our customers. More information:

aegon.co.uk
As an international life insurance, pensions and asset management group based in The Hague, Aegon has businesses in over twenty five markets in the Americas, Europe and Asia. Aegon companies employ over 28,000 people and have millions of customers across the globe. Further information:

aegon.com
*Figures correct as of August 2019