Aegon introduces a digital hub and launch events for employers
Aegon Press Team
Friday, 13 November 2020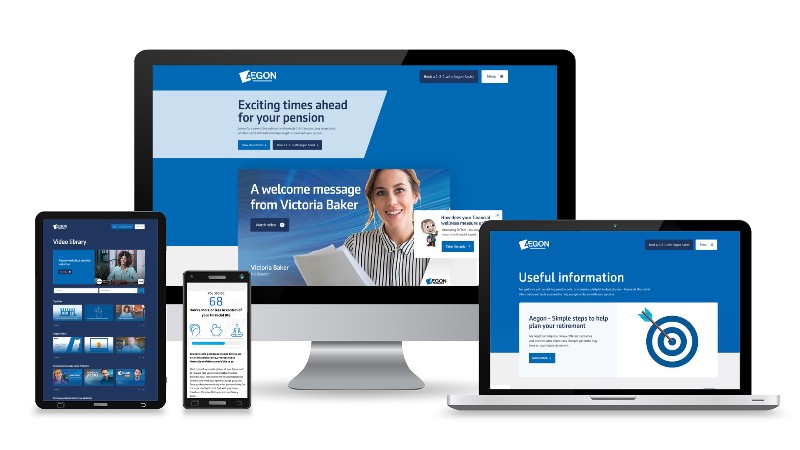 The new hub is designed to help employers roll out their new pension scheme to employees
It's supported by a week of live and interactive activity
Both are designed to complement Aegon's traditional worksite pension engagement and launch events
The initial roll-out of a new pension scheme in the workplace is a key moment for employers and a great opportunity to get people engaged with this valuable employee benefit. To help employers make the most of this opportunity, Aegon has launched a new digital hub packed full of information and resources to ensure employees have all the information about their pension at their fingertips, along with a host of resources answering common questions.
The digital hub is being rolled out with support from pension engagement pros Pension Geeks to some of Aegon's largest workplace schemes over the next 12 months. These will be followed up, as usual with employer specific worksite presentations which have also now moved temporarily to a virtual approach.
Co-branded with the employer, the virtual launch events and the digital hub will be promoted by Aegon and each employer to all employees and include:
A week of live and interactive activity hosted by Pension Geeks about pension basics and where to seek guidance and advice. This will be recorded and made available to employees for the following week.
The digital hub provides a suite of collateral to help engage members with the idea of saving for retirement and to see the value in the pension their employer is providing them with, while also encouraging them to consider their own financial wellbeing and what they can do to improve it. And it enables members to see this all in one place.
It features scheme specific educational content from both Aegon and Pensions Geeks like videos to help members understand the scheme set up, investments, and articles about financial wellbeing as well as an announcement video from the employer's HR director. There will also be bookable slots for live webinars or a guidance call for employees depending on their needs.
Linda Whorlow, Managing Director of workplace business at Aegon comments:
"The pandemic has temporarily moved our much-loved face-to-face worksite events online, which has been a great shame. But it hasn't stopped us reaching our customers and making the most of the all-important initial roll out of the pension. We've delivered over 400 presentations to more than 15,000 attendees this year. We've now created the digital hub to ensure we are offering extensive support to employers and their members during this challenging time.
"Employees will still get the experience and the information they would have through a worksite event but the beauty of being digital is – they will be able to do it at a time that suits them. The biggest benefit for the employer of offering a digital solution is that they will be able to reach a lot more employees in the process.
"By offering a full range of multi-channel communications to employers, we can help them reach as many of their employees as possible, to ensure that they don't miss out on the important benefits their employer and their pension can provide."
Further information
Stephanie Melrose
PR Manager
Aegon UK
Mob: 07740897621
Notes to Editors
In the UK, Aegon offers retirement, workplace savings and protection solutions to over three million customers. Aegon employs around 2000 people in the UK and together with a further 800 people employed by Atos, we serve the needs of our customers. More information: aegon.co.uk
As an international life insurance, pensions and asset management group based in The Hague, Aegon has businesses in over twenty markets in the Americas, Europe and Asia. Aegon companies employ approximately 26,000 people and have millions of customers across the globe. Further information: aegon.com
Figures correct as of November 2019