Adults look to rebuild financial resilience as covering an unexpected expense tops financial concerns for 2022
Aegon Press Team
Wednesday, 29 December 2021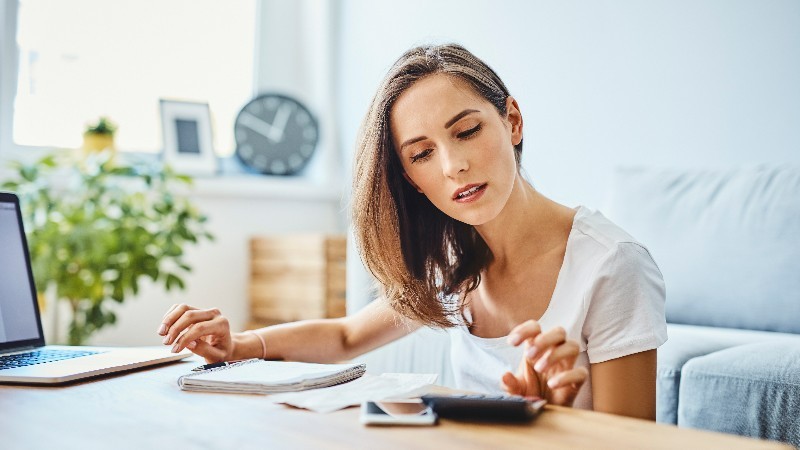 Aegon research shows a third of adults (32%) are prioritising building up emergency savings in 2022
One in six (16%) said paying off short term debt is a financial priority, and this is higher amongst Millennials and Gen X
The ability to cover an unexpected expense is the top financial concern in the coming year, and a lack of saving is also preying on people's minds
Nearly a quarter (23%) whose job was impacted by the pandemic said they have less savings than pre-pandemic
Aegon's latest research* shows a third of adults (32%) are prioritising building up emergency savings in 2022 as financial uncertainty from the pandemic has promoted savers to acknowledge the need for a financial cushion.
An emergency fund is the money you put aside to cover a financial shock such as a job loss or a large, unexpected expense. It plays an important role in financial planning as the financial cushion prevents people from borrowing money or dipping into other longer-term savings.
In order to build financial resilience, it is important to clear short-term debt, which often carries high rates of interest. The Bank of England's recent decision to increase interest rates from historic lows could make borrowing even more costly. One in six (16%) adults are looking to pay off short-term debt in 2022, and this is higher amongst Millennials and Generation X.
Financial concerns
The research shows the ability to cover an unexpected expense is the top financial concern in the coming year. Overall, 34% of adults said they were concerned about an unexpected financial shock, although worryingly this was higher amongst those over 55 (37%), the group who've had the longest to build up financial resilience.
Other top concerns include paying for basic living expenses (23%) followed by a lack of savings (22%).
While some individuals will have saved more during the pandemic as expenditure decreased, others, such as those who have experienced a temporary or permanent decrease in income, will have faced significant financial difficulty. The research highlights that nearly a quarter (23%) of adults whose job was impacted by the pandemic have less money saved than they did pre-pandemic.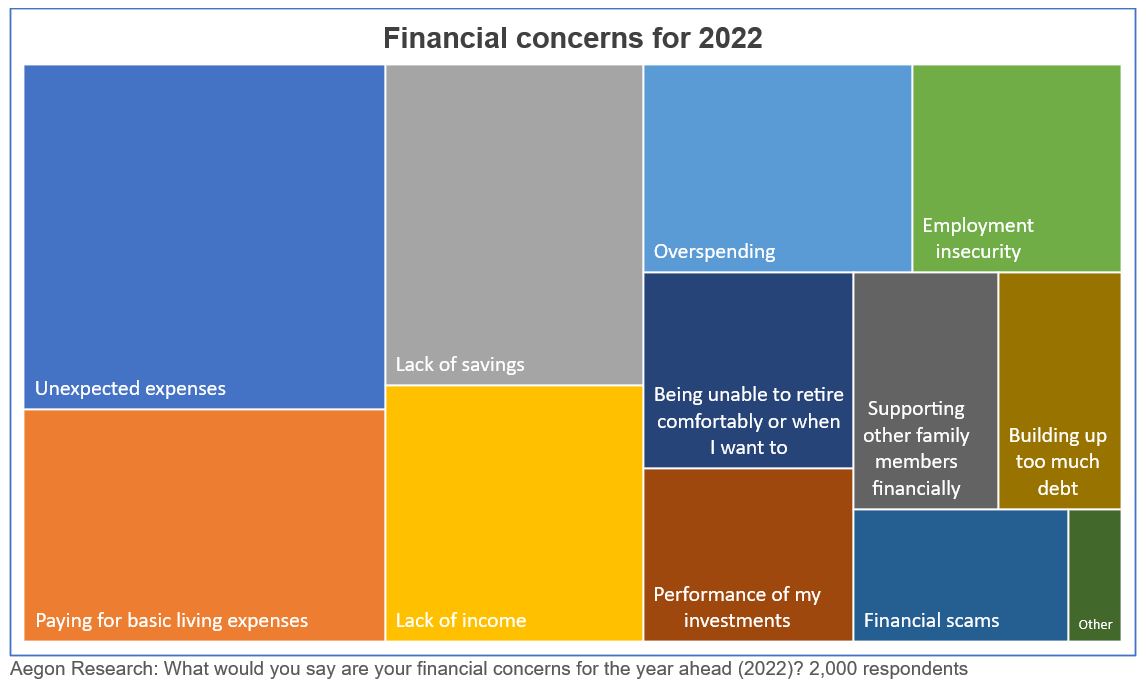 Kate Smith, Head of Pensions at Aegon, comments:
"It is encouraging that individuals are looking to prioritise building financial resilience in the coming year. While some have managed to save more during the pandemic, others have faced significant financial difficulty, particularly if they have experienced a permanent or temporary fall in income. Some of these will have dipped into their savings to provide short-term relief, but those without a financial safety net could have found themselves exposed as being underprepared to cover any unexpected expense.
"Acknowledging the need to build financial resilience is a good first step but it should be followed by action. A simple way to do this is through budgeting, by mapping your monthly incomings and outgoings and making regular payments to an easily accessible savings fund.
"The general financial uncertainty created by the pandemic has highlighted the importance of financial resilience. Going into a new year with fresh uncertainty surrounding the coronavirus crisis, developing good budgeting skills and savings habits and growing emergency funds will give peace of mind and help to build financial resilience for any future unexpected expense."
References:
*Research carried out by Opinium with 2,000 UK adults in December 2021#
Further information
Samuel Woods
PR Manager
Aegon UK
Notes to Editors
In the UK, Aegon offers retirement, workplace savings and protection solutions to over three million customers. Aegon employs around 2000 people in the UK and together with a further 800 people employed by Atos, we serve the needs of our customers. More information: www.aegon.co.uk
Aegon's roots go back more than 175 years – to the first half of the nineteenth century. Since then, Aegon has grown into an international company, with businesses in the Americas, Europe and Asia. Today, Aegon is one of the world's leading financial services organisations, providing life insurance, pensions and asset management. Aegon's purpose is to help people achieve a lifetime of financial security. More information on www.aegon.com
Figures correct, January 2021