A spotlight on each of our charities – part two
Aegon Content Team
Monday, 4 October 2021
Every year we support a number of charities across the UK as we're passionate about playing an active role in our communities – by helping to make a better future for those arounds us.
We're shining a light on each of the charities we're supporting this year and, in this feature – Blood Bikes Scotland, Marie Curie Edinburgh and East Anglia Children's Hospices (EACH) have provided a few words, to share the brilliant things they do as a charity.
Blood Bikes Scotland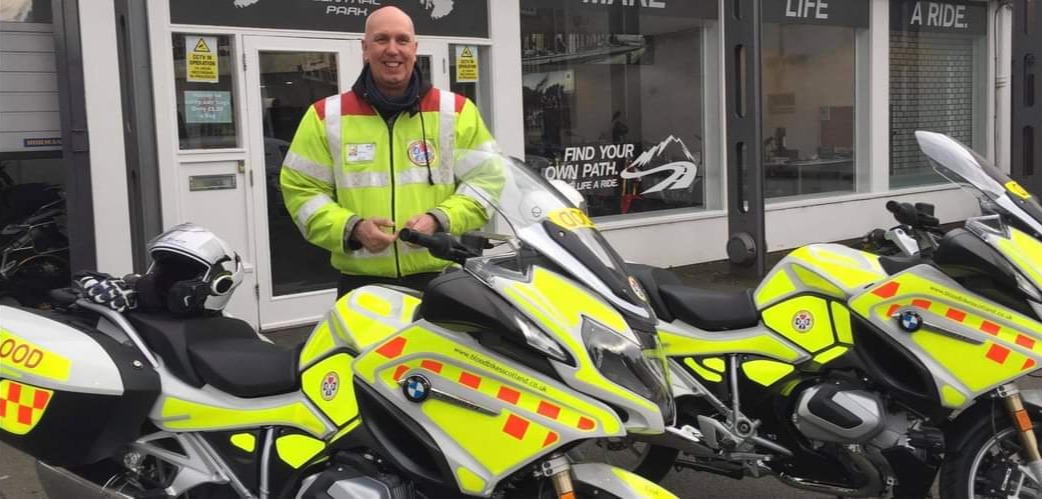 Blood Bikes Scotland is a registered charity that operates a free, small item transportation service for NHS Scotland, specifically NHS Lothian, Borders, Forth Valley, Fife and Tayside. 
Using a fleet of 17 fully liveried motorbikes and cars, we offer this service free of charge to the NHS as an alternative to taxis or couriers, as a way of 'giving something back'.  Every month we successfully undertake around 1,000 deliveries around the country, saving the NHS around £250,000 per annum.
What we do
We deliver small important items that are urgently required to be moved from one site to another or to a patient's home in the community. By linking up with other Blood Bikes groups in the UK, we can transfer items anywhere is the UK.
Although the name Blood Bikes implies we only transport blood samples, this is only one aspect of what we deliver. Our amazing volunteers deliver items such as specialist baby milk to premature babies, sometimes collecting expressed breast milk from the mother in their home and taking it to the hospital.
We take medication to the frail and the elderly in their homes, we deliver new prescriptions to District Nurses while they're still in the patients home so that Palliative patients can have changes to their pain medication quicker – reducing the time they're waiting on pain relief medication.
Our team
Our team of around 140 volunteers is made up of advanced qualified motorcyclists who are supported by a team of Controllers. Controllers take the calls direct from the NHS and allocate the jobs to the riders on shift. In the background, we also have a 10 member strong committee who spend many hours working away to ensure the service is delivered seamlessly. 
The work undertaken by our Chairman, John Baxter, in ensuring the success of the Charity was recently recognised and John was awarded an MBE in the Queen's Birthday Honours List in June 2021. 
How you can support us
We travel around 20,000 miles a month and spend around £5,000 a month on fuel, insurance, tyres and servicing. We're 100% voluntary and receive no statutory funding – we purchase all our own fleet. 
Unfortunately, due to the coronavirus restrictions, all our regular fundraising and events have been cancelled, and we're very hopeful that these can start again soon. Follow Blood Bikes Scotland Facebook page to keep an eye out for upcoming events.  
We have had great support from many companies, supporting our ongoing Ebay Auction.  Why not have a look and see what we have to offer or grab yourself one of our fabulous T-shirts. The sale of 2 T-Shirts funds the fuel for one vehicle for one shift! You can also donate to our charity through our Blood Bikes website.
Don't forget to look out for us throughout the regions and give us a wave!
Marie Curie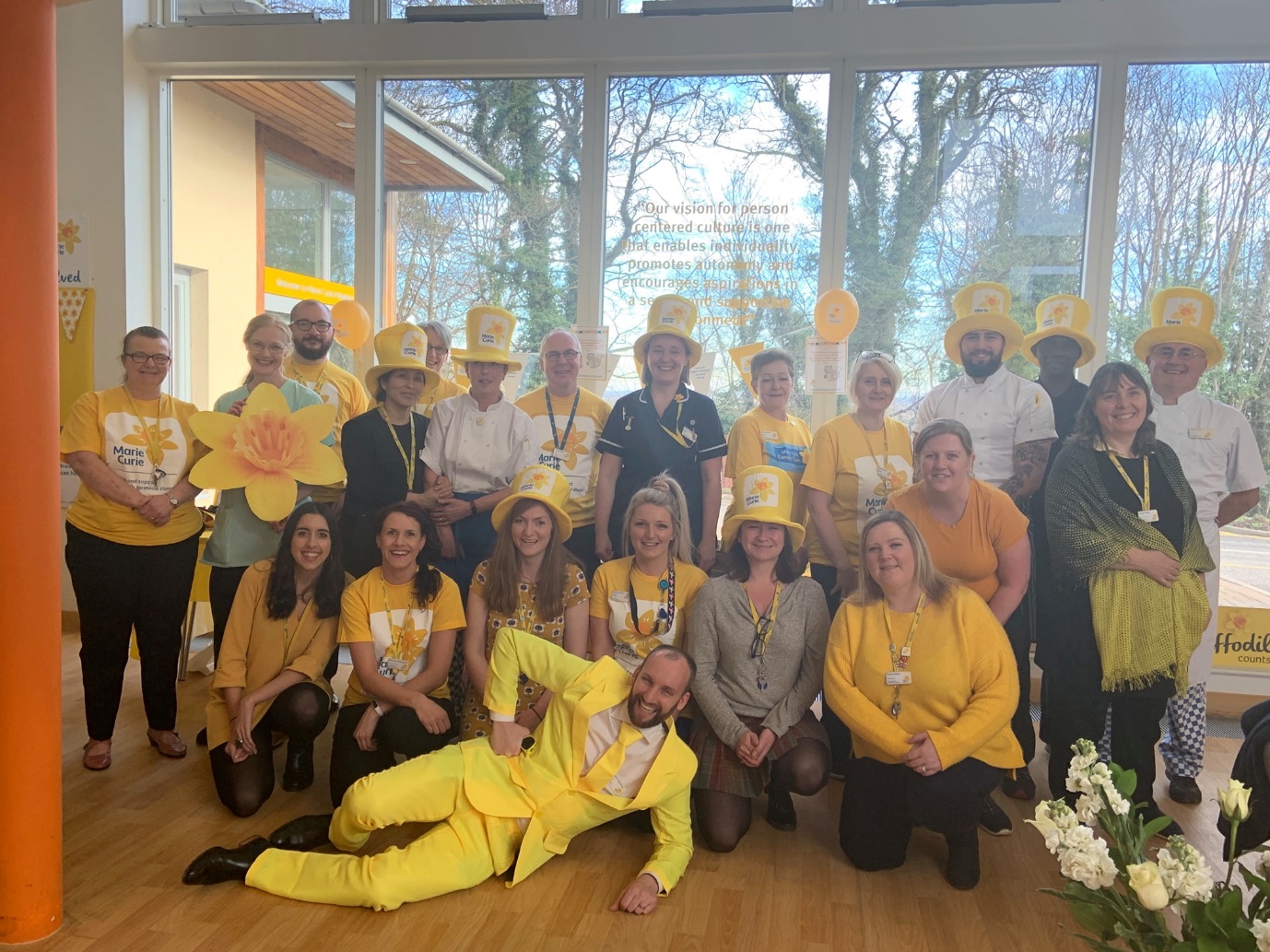 Marie Curie was established in 1948 the same year as the NHS. We're here to support everyone across the UK through all aspects of dying, death, and bereavement. We support patients and families to talk, plan and prepare for their journey ahead.
What we do
Our highly skilled frontline nurses work across our communities 24/7, 365 days a year, providing expert palliative care and emotional support. Many people believe that we're solely a cancer charity. In fact, for several years now, our reach and expertise mean we care for patients with any life limiting condition, for example Parkinson's, MND, Heart disease, COPD and Alzheimer's.
When someone has a terminal illness, it can be a worrying time – people find comfort in being able to talk about their feelings. Whether a query is medical, emotional or financial, our Marie Curie support line can be accessed by phone or web chat.
We also offer a telephone bereavement support service for anyone affected by death and dying. Our specially trained volunteers and spiritual care coordinators are there to offer a safe, confidential space to discuss feelings and emotions around bereavement.
If you need support, please visit our Marie Curie website or give us a call on 0800 090 2309 (call charges will vary).
Our team
As a leading terminal illness charity, our researchers, policy experts and campaigners push the boundaries of knowledge around what makes a good death, and fight for a society where everyone gets the best experience possible at the end of their lives.
Take a peek inside our Frogston Road hospice in Edinburgh where hopefully you get a sense of the care, warmth and fun that can be had there.
How people can support us
Marie Curie provides all of its services free of charge; however it costs £8,129 per day to run the hospice. We could not do this without the support of local business and people exactly like you. Support is precious and valued so much by patients and families when they realise they can be cared for and not have to worry about paying for a service. Indeed, without donations to Marie Curie, the service may be reduced or not be provided at all.
Like any charity, we would be lost without our volunteers. Volunteer roles are flexible and fun or you can help us fundraise. Fundraising raises awareness and even sharing the fact we care for patients with any terminal illness is a great thing to do.
So, whether you have a minute to share a fact, 30 minutes to mooch in your wardrobe, a couple of hours to volunteer or a day to enter one of our events – please know every second of your support is highly valued and we thank you all.
Check out our range of volunteering opportunities on our Marie Curie website.
East Anglia's Children's Hospices (EACH)
East Anglia's Children's Hospices (EACH) cares for children and young people with life-threatening conditions across Cambridgeshire, Essex, Norfolk and Suffolk and supports their families. For families accessing care and those who have been bereaved, EACH is a lifeline at an unimaginably difficult time.
More than half of our care and support is delivered in the family home and community, in surroundings comfortable for the family. We offer families flexibility and control over where they receive their care and support – providing care at home, in hospital or at one of three hospices at Milton in Cambridgeshire, The Nook in Norfolk and The Treehouse in Suffolk.
Why we do it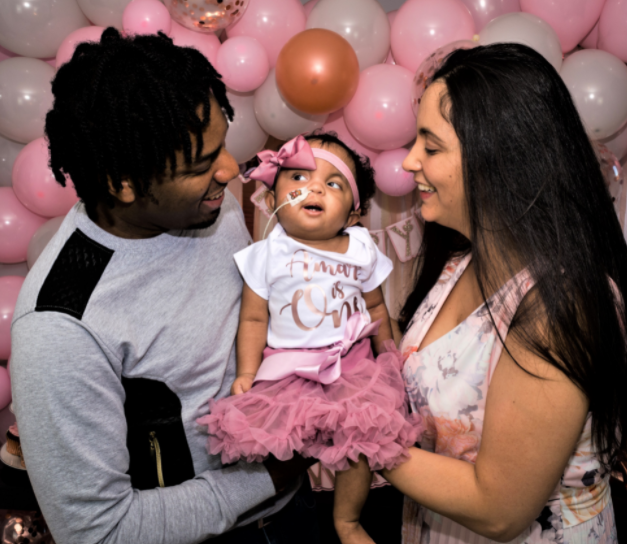 Just knowing EACH is still there and willing to help and support us is another important comfort. This journey is difficult and uncertain, and what EACH provides is some form of certainty in the guidance and support they provide to families facing the loss of a child' said Amanda, Amari's mum – read Amari's story here.
Read more family stories and watch our films to see the difference your support makes to children and families.
How people can support us
Will you join the EACH £23 Challenge? £23 could pay for an hour of care provided by a Clinical Nurse Specialist for a child with a life-threatening condition. Whether you give up your daily coffee or Friday night bottle of wine, collect your spare change, team up with your colleagues to raise money or simply donate on pay day – your donation will make a big difference.
We're incredibly grateful for the generosity of our supporters, who enable us to continue our vital work and help raise awareness of the care we provide. Put simply without the support we wouldn't be able to be there for so many families when they need us most. Your support really does make a big difference to local children, young people and families.
A big thank you
A big thank you to Blood Bikes Scotland, Marie Curie Edinburgh and East Anglia Children's Hospices (EACH) for sharing a glimpse into their charities. Supporting each of our charities is really important to us at Aegon – from fundraising activities to sharing our skills and expertise. Read our first feature to learn more about the other charities we're supporting this year – and keep an eye out for the final feature on our 2021 charities.
This article contains 3rd party generated content provided by each charity's authorised representative. Aegon is not responsible for the content accuracy of this article's information, or for the fundraising activities mentioned. Please reach out to the charities directly if you would like to find out more, or visit the charity registers for England and Wales, or for Scotland.